News
A Reliable and Affordable Test for Alzheimer's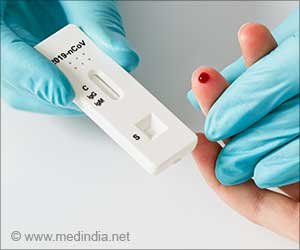 Alzheimer's disease affects 6.7 million Americans over the age of 65 and is the seventh largest cause of death in the United States. However, testing for it might be challenging (
).
There is no one test for Alzheimer's disease. A
(PET) scan is the most effective diagnosis. This test can detect the presence of potentially damaging proteins in the brain, such as
and tau.
However, Medicare, the government-sponsored health insurance program for the elderly, only provides intermittent coverage for these testing.
People who are unwilling or unable to undergo the more expensive and comprehensive PET scan might benefit from a rapid, less intrusive blood test. Early detection of the disease may be especially crucial since medications like donanemab, which may be accessible by the end of the year, are most effective when given in the disease's early stages.
Advertisement



"Currently, use of Alzheimer's blood tests is limited by the need to visit a clinic, administration by trained personnel, and strict time-limited and temperature-dependent delivery and storage procedures," Hanna Huber, Ph.D., a Swedish neuroscientist who led the study, said in a statement (
2✔

✔

Trusted Source


Simple Finger Prick Test Exemplifies Advances in Alzheimer's Disease Blood Tests

Go to source
).
Looking for Tau Proteins in Blood Test to Detect Alzheimer's
"A method that allows blood collection at home and that is simple enough to be performed independently, or by caregivers, would increase accessibility of these tests. It would result in improved early diagnosis and better monitoring of patients considered 'at risk' or those who are receiving approved therapies."
Blood samples were collected from 77 individuals for the study by researchers at the University of Gothenburg on Sweden's west coast. The researchers discovered that tau levels in the samples could be detected after a day of transit without refrigeration. High levels of tau proteins in the blood have been related to Alzheimer's disease.
"Our pilot study demonstrates the potential of remote collection and measurement of Alzheimer's biomarkers without low-temperature storage or extraordinary preparation or processing," Dr. Huber said.
Researchers hope that these results will be combined with a new class of very successful medications to aid in the treatment of an illness that has confounded doctors for years.
"These findings are timely and important with the recent U.S. Food and Drug Administration approvals of Alzheimer's treatments targeting amyloid-beta where confirmation of amyloid buildup and biomarker monitoring are required to receive treatment," Maria C. Carrillo, Ph.D., chief science officer of the Alzheimer's Association, said in a statement.

Blood Tests can be an Accessible, Affordable, and Non-Invasive Way to Detect Alzheimer's
She continued: "Blood tests — once verified and approved — would offer a quick, noninvasive and cost-effective option, while further standardization and validation are needed, blood tests may soon be an important piece of the diagnostic workup in everyday practice for detecting and monitoring treatment of Alzheimer's disease."
References :
Alzheimer's Disease and Related Dementias –

(https://www.cdc.gov/aging/aginginfo/alzheimers.htm)

Simple Finger Prick Test Exemplifies Advances in Alzheimer's Disease Blood Tests –

(https://aaic.alz.org/releases_2023/finger-prick-blood-test-alzheimers-disease.asp)
Source: Medindia
Source link
#Reliable #Affordable #Test #Alzheimers