What is Immunity?
Every day we are exposed to large number of infectious agents. However, only a few of these exposures result in disease. This is due to the fact that the body is able to defend itself from most of these foreign agents. This overall ability of the host to fight the disease-causing organisms, conferred by the immune system is called immunity.
What is immune system made up of?
The immune system is made up of special organs, cells, and chemicals that fight infection (microbes). The main parts of the immune system are white blood cells, antibodies, the complement system, the lymphatic system, the spleen, the thymus, and the bone marrow. These are the parts of your immune system that actively fight infection.
What is the meaning of immune response?
If the immune system encounters a pathogen, for instance, a bacterium, virus, or parasite, it mounts a so-called immune response. As long as your immune system is running smoothly, you don't notice that it's there. But if it stops working properly – because it's weak or can't fight particularly aggressive germs – you get ill. Germs that your body has never encountered before are also likely to make you ill. Some germs will only make you ill the first time you come into contact with them. These include childhood diseases like chickenpox.
Types of Immune system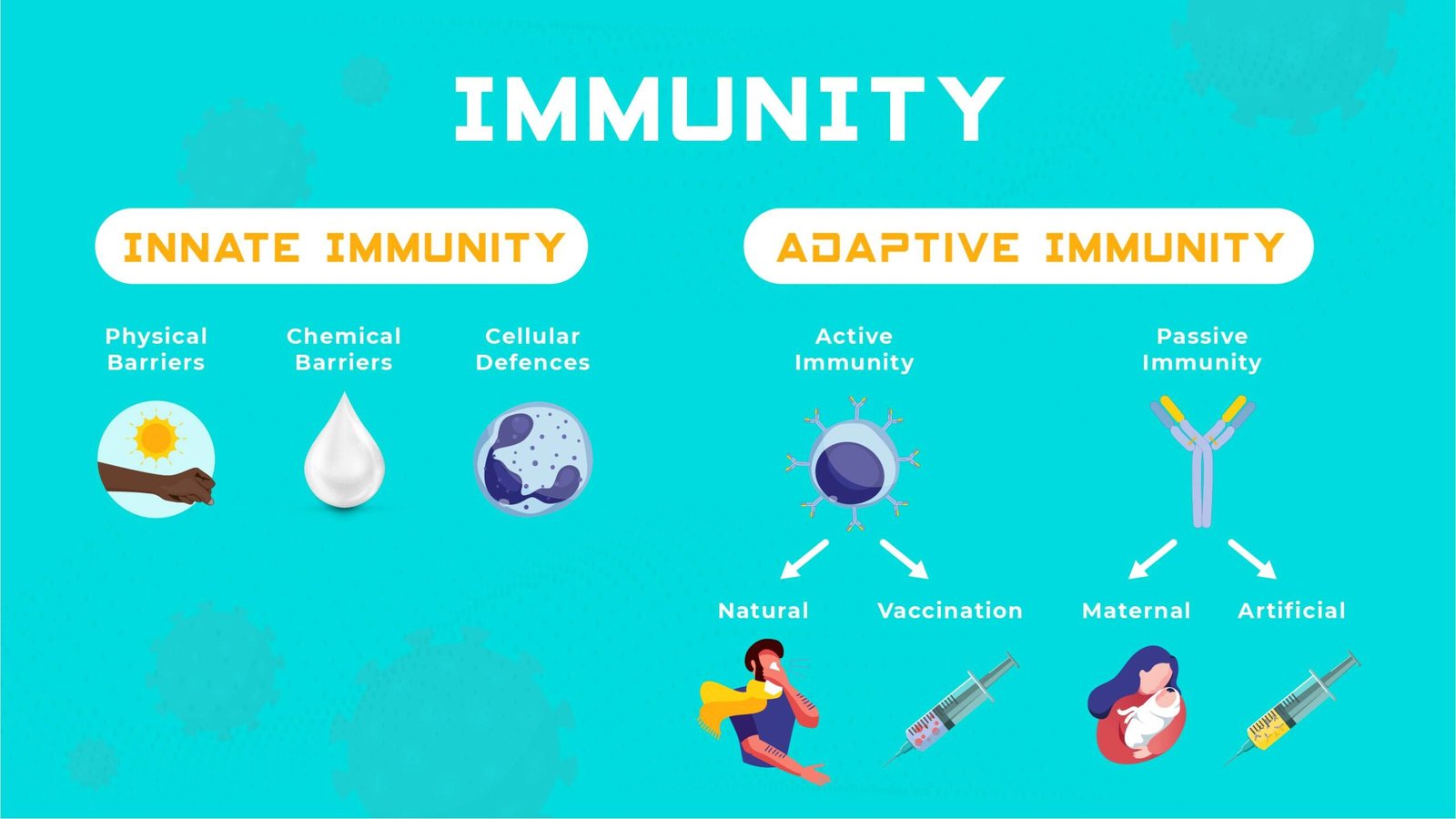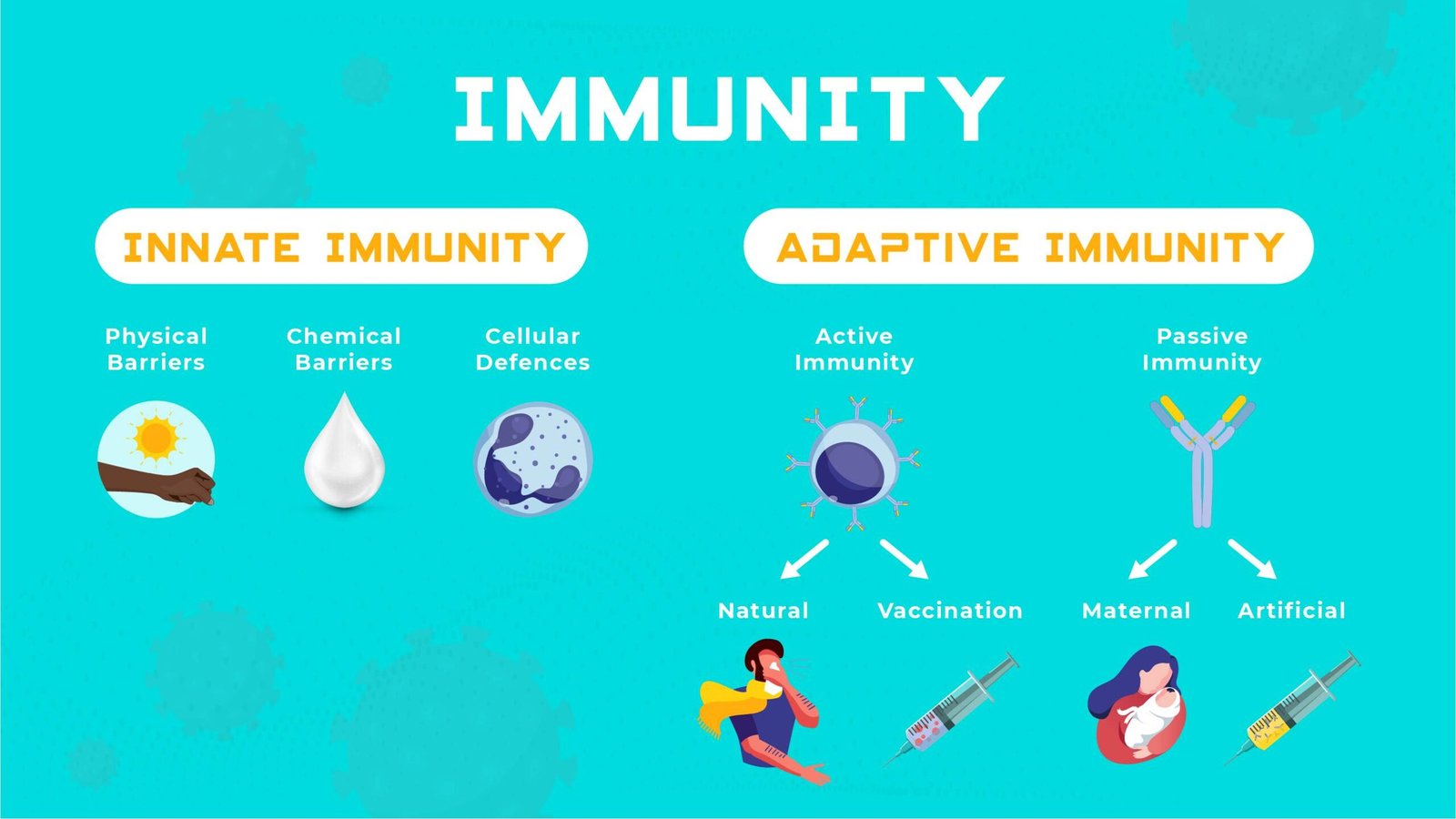 How many types of the immune system are?
There are three subsystems within the immune system, known as the innate (non-specific) immune system, adaptive (specific) immune system and passive immune system. All of these subsystems are closely linked and work together whenever a germ or harmful substance triggers an immune response.
What is innate immunity?
The innate immune system provides a general defence against harmful germs and substances, so it's also called the non-specific immune system. It mostly fights using immune cells such as natural killer cells and phagocytes ("eating cells"). The main job of the innate immune system is to fight harmful substances and germs that enter the body, for instance through the skin or digestive system.
This is a non-specific type of defence, that is present at the time of birth. This is accomplished by different types of barriers to the entry of the foreign agents into our body.
How many types of innate immunity are?
Innate immunity consists of four types of barriers. These are –
Physical barriers: Skin on our body is the main barrier which prevents entry of the micro- Mucus coating of the epithelium lining the respiratory, gastrointestinal and urogenital tracts also help in trapping microbes entering our body.
Physiological barriers: Acid in the stomach, saliva in the mouth, tears from eyes–all prevent microbial growth.
Cellular barriers: Certain types of leukocytes (WBC) of our body like poly morpho-nuclear leukocytes (PMNL-neutrophils) and monocytes and natural killer (a type of lymphocytes) in the blood as well as macrophages in tissues can phagocytose(killing) and destroy
Cytokine barriers: Virus-infected cells secrete proteins called interferons which protect non-infected cells from further viral infection.
Other defences: Body fluids like skin oil, saliva and tears contain anti-bacterial enzymes that help reduce the risk of infection. The constant flushing of the urinary tract and the bowel also helps.
Fever is an immune system response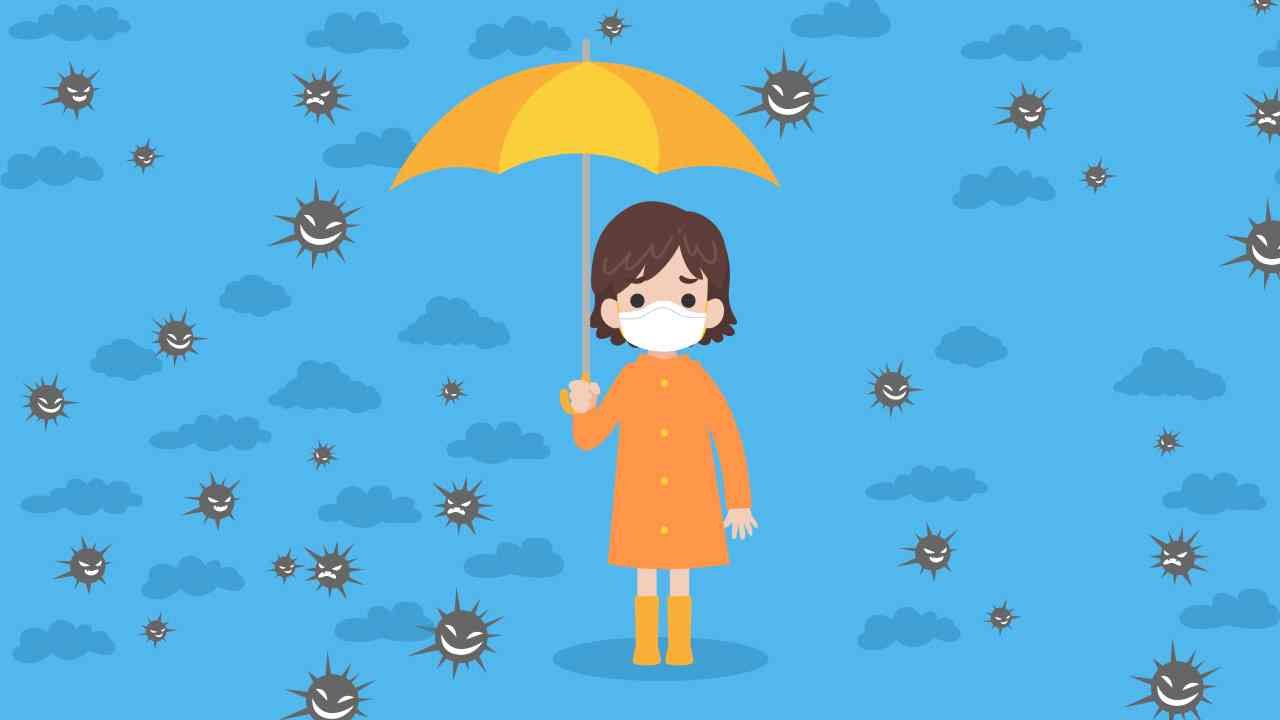 A rise in body temperature or fever can happen with some infections. This is actually an immune system response. A rise in temperature can kill some microbes. Fever also triggers the body's repair process.
What is Adaptive(Acquired) immunity?
The adaptive (specific) immune system makes antibodies and uses them to specifically fight certain germs that the body has previously come into contact with. This is also known as an "acquired" (learned), adaptive or specific immune response.
It is characterised by memory. This means that our body when it encounters a pathogen for the first time produces a response called primary response which is of low intensity. Subsequent encounter with the same pathogen elicits a highly intensified secondary or anamnestic response. This is ascribed to the fact that our body appears to have memory of the first encounter.
Because the adaptive immune system is constantly learning and adapting, the body can also fight bacteria or viruses that change over time.
What is passive immunity?
Passive immunity is "borrowed" from another source and it lasts for a short time. The yellowish fluid colostrum secreted by mother during the initial days of lactation has abundant antibodies (IgA) to protect the infant. The foetus also receives some antibodies from their mother, through the placenta during pregnancy. These are some examples of passive immunity.
What are the main parts of the immune system?
The main parts of the immune system are:
white blood cells:
 White blood cells are the key players in your immune system. They are made in your bone marrow and are part of the lymphatic system. White blood cells move through blood and tissue throughout your body, looking for foreign invaders (microbes) such as bacteria, viruses, parasites and fungi. When they find them, they launch an immune attack. White blood cells include lymphocytes (such as B-cells, T-cells and natural killer cells), and many other types of immune cells.
Antibodies:
Antibodies help the body to fight microbes or the toxins (poisons) they produce. They do this by recognising substances called antigens on the surface of the microbe, or in the chemicals they produce, which mark the microbe or toxin as being foreign. The antibodies then mark these antigens for destruction. There are many cells, proteins and chemicals involved in this attack. 
Complement system:
The complement system is made up of proteins whose actions complement the work done by antibodies.
Lymphatic system:
Each lymphocyte in your body carries antibodies meant to fight the antigens carried by pathogens. There are three main types of lymphocytes in the body: B cells, T cells, and natural killer cells.
Spleen:
The spleen is a blood-filtering organ that removes microbes and destroys old or damaged red blood cells. It also makes disease-fighting components of the immune system (including antibodies and lymphocytes).
Bone marrow:
Bone Marrow is the spongy tissue found inside your bones. It produces the red blood cells our bodies need to carry oxygen, the white blood cells we use to fight infection, and the platelets we need to help our blood clot.
Thymus:
The thymus filters and monitors your blood content. It produces the white blood cells called T-lymphocytes.
What are some disorders of the immune system?
Because the immune system is so complex, there are many potential ways in which it can go wrong.
Types of immune disorder fall into three categories:
Immunodeficiencies
It is a state in which the immune system's ability to fight infectious disease and cancer is compromised or entirely absent. Most cases of immunodeficiency are acquired ("secondary") due to extrinsic factors that affect the patient's immune system.
Autoimmune disorder
In autoimmune conditions, the immune system mistakenly targets healthy cells, rather than foreign pathogens or faulty cells. In this scenario, they cannot distinguish self from non-self.
Hypersensitivity
In this immune system overreacts in a way that damages healthy tissue. An example is an anaphylactic shock where the body responds to an allergen so strongly that it can be life-threatening.
How to boost your immune system?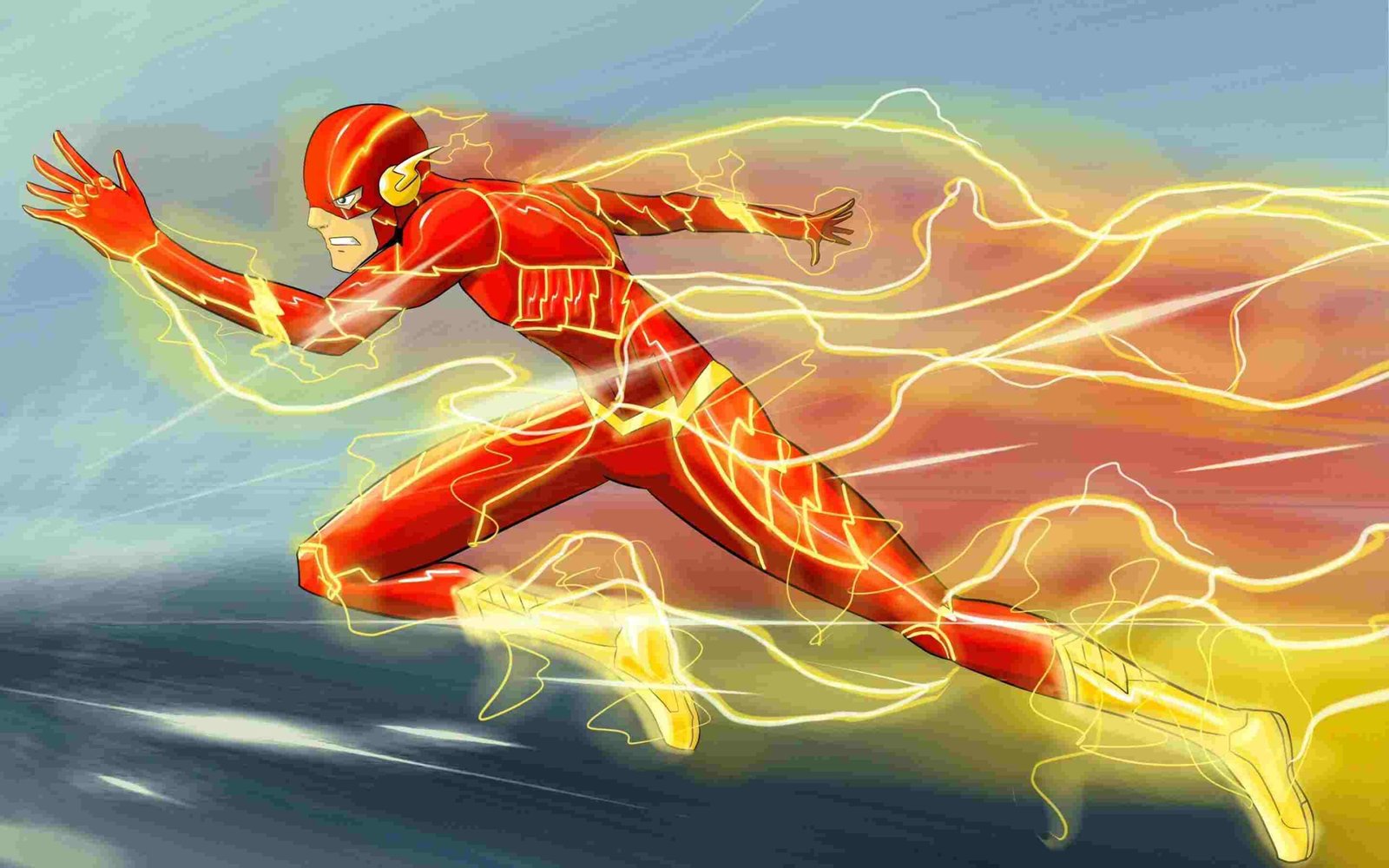 Every part of your body, including your immune system, functions better when protected from environmental assaults and bolstered by healthy-living strategies such as these:
Don't smoke.
Eat a diet high in fruits and vegetables.
Exercise regularly: Regular exercise is one of the pillars of healthy living. It improves cardiovascular health, lowers blood pressure, helps control body weight, and protects against a variety of diseases.
Maintain a healthy weight.
If you drink alcohol, drink only in moderation.
Get adequate sleep.
Take steps to avoid infection, such as washing your hands frequently and cooking meats thoroughly.
Try to minimize stress: The saying goes that laughter is the best medicine, and there's truth to that. Laughter releases dopamine and other feel-good chemicals in the brain, all of which can help decrease stress. Twenty minutes of laughter a day may not keep the doctor away, but it may help keep your immune system working properly.
Deficiencies of zinc, selenium, iron, copper, folic acid, and vitamins A, B6, C, and E — alter immune responses in human body so make sure your dietery plan consist all of these micro-nutrients.
If you suspect your diet is not providing you with all your micro-nutrient needs or maybe, for instance, you don't like vegetables — taking a daily multivitamin and mineral supplement may bring other health benefits, beyond any possibly beneficial effects on the immune system. Taking mega-doses of a single vitamin maybe not good idea for your health. Always More is not necessarily better.