News
Union Health Budget – 2017-2018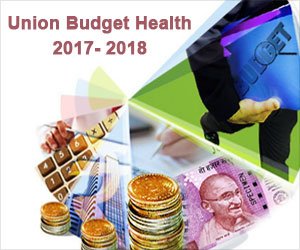 Mr. Jaitley
announced that the government had prepared an action plan to eliminate certain
diseases over the years.
The government has also made a projection
to reduce infant mortality rate to 28 by 2019 (39 in 2014) and maternal
mortality rate to 100 by 2020 (167 in 2011-13).
AIIMS and Medical
Education
The government
is committed to undertake structural transformation of the regulator framework
for medical education and practice in India. Two new All India Institute of
Medical Sciences (AIIMS) will be set up, one in
Jharkhand and another in Gujarat.

Advertisement



The Finance
Minister said that adequate availability of specialist doctors is needed to
strengthen the secondary and tertiary levels of healthcare. Steps have been
taken to create additional 5,000 Post Graduate seats every year. The government
has also decided to start DNB (Diplomate National Board) courses in many of the
hospitals across the country.
"In addition,
steps will be taken to roll-out DNB courses in big District Hospitals;
strengthen PG teaching in select ESI and Municipal Corporation Hospitals, and
encourage reputed Private Hospitals to start DNB courses," said Finance
Minister Jaitley.
Poor and Unprivileged Healthcare
A nationwide
scheme providing financial aid of Rs 6,000 for pregnant women to cover hospital
admission, vaccination, and nutritional food. The government has allocation a
sum of Rs. 1,84,632 crore for women and children. About 1.5 lakh Health Sub
Centers will be transformed into Health and Wellness Centers. Mahila Shakti
Kendras will be set up at the village level in 14 lakh Anganwadi centers with a
total allocation of Rs 500 crore.
Generic Drugs
The government will take steps to increase the availability of essential drugs across the
country and reduce the cost of life-saving drugs. It
has proposed to amend the Drugs and Cosmetics Rules to promote the use of generic drugs
New rules will also be formulated for regulating medical devices, which could
attract investment in these sectors and reduce the cost of devices.
Smart Cards for
Elderly
Aadhar-based
smart cards will be introduced for senior citizens for their health and
well-being. The smart cards would contain health details of senior citizens.
The pilot service of these cards would begin in 15 cities initially in India
beginning this year.
Views on the Union
Budget from the Health Industry
Dr. J. Amalorpavanathan, Retired Director, Institute of Vascular Surgery, Madras Medical College, said, "The Finance Minister said that Action Plan has been prepared to eliminate Kala Azar and Filariasis by 2017, Leprosy by 2018 and Measles by 2020 and TB by 2025. Though the intention is laudable, I think the claims are exaggerated especially when it comes to Filariasis, which is mosquito-borne and can only be eliminated when we can achieve a drastic reduction in the mosquito population- a near impossible task even by a lay man's understanding. Similarly eradication TB by 2025 is utopian especially with the advent of MDR strains."
"Also, he aims to reduce IMR from 39 to 28 by 2019 and MMR from 167 to 100 by 2020 looks good; but unless we know the blue print it is difficult to go by claims alone. Similarly, renaming 1.5 lakh health sub centers as Health Wellness Centers sounds hollow when a huge number of vacancies exist in sub centers including doctors and trained personnel.
Creation of 5,000 postgraduate seats 'every year' is also not very clear, since most of the medical colleges in the country are run by states and it is not clear where these seats are going to be created. He is unclear about restructuring MCI and DNB. Till the problems of MCI and DNB are cleared at the earliest, confusions in the status of MCI offered degrees and NB offered Diplomas will continue," said Dr J.Amalorpavanathan.
"Creation of AIIMS hospitals is a promise that were not fulfilled in the past. Even Tamil Nadu was offered this in previous years but did not materialize. And AIIMS itself is as we know, beset with several problems, and not the best model to emulate. Lastly, there is not much clarity about 'regulating ' drug prices and cost of medical devices," he concluded.
Commenting on the Union Budget, Mr Ananth Krishan, journalist at a leading national daily, said that the budget could have been more. Increasing the availability of essential drugs for serious illnesses is laudable. However, steps could have been taken to improve early diagnosis of cancer and dedicated programs to treat common conditions like diabetes and hypertension should have been launched.
Additional 5,000 postgraduate medical seats is laudable. However, relevant steps should be taken to prevent commercialization of medical seats, he added.
Commenting on
the Union Budget 2017, Dr. Prathap C Reddy, Chairman, Apollo Hospitals Group
said, "I commend the Union Budget's focus on improving the growth trajectory of
the economy, its pronounced thrust on rural development alongside ensuring
fiscal consolidation. It will certainly have a positive impact in fiscal
administration and set the stage for clean and good governance. Furthermore, it
is well poised to energize employment, improve existing infrastructure and more
importantly alleviate poverty in the country. A nation grows only when it is
truly inclusive and the announcements today underscored the Government's
commitment to build an inclusive India."
"I would
reiterate that a healthy India is pivotal for India to retain its position as
one of the fastest growing economies. Hence, we are also pleased that the
critical determinants of health, i.e. sanitation and clean drinking water have
gained greater importance as they are critical to ensure preventable deaths.
Furthermore, a target of 2025 has been set for the elimination of Tuberculosis
apart from other diseases such as Filiaria, Leprosy, Measles and Kala Azar are
all being targeted, which is a key need of the day in addition to addressing
the onslaught of NCDs."
Source: Medindia
Source link
#Union #Health #Budget