News
Understand Dance Injuries Through Dance Anatomy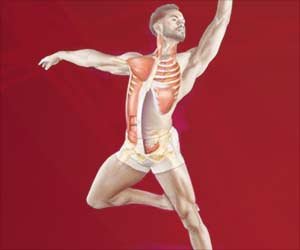 Dance injuries unlike sports injuries are different and a normal sport medicine therapist may not understand these injuries well. Jacqui Greene Haas, a ballet dancer decided for the first time to document dance injuries and how to prevent these. She wrote a book some few years back called
which was published by Human Kinetics.
The book became so popular that it was translated into many languages with the second edition arriving soon. The book has vivid colourful illustrations that capture the movement of the body and show how it affects the muscles when the body is in motion. The book is a unique combination of dance movements and exercises that promotes correct alignment, breathing and prevention of common dance injuries.
Dance Anatomy
is ultimately a representation of Author Haas's experience and her passion to promote the science of dance and bring it in mainstream medicine for prevention of dance injuries.
Advertisement



Jacqui Greene Haas is a former professional ballet dancer with several dance schools including Boston Ballet, Southern Ballet Theatre, Tampa Ballet, New Orleans Ballet, and Cincinnati Ballet. She has been the athletic trainer for Cincinnati Ballet since 1989 and is currently the supervisor of performing arts medicine at Mercy Health Orthopedics and Sports Rehabilitation in Cincinnati. Jacqui's successful outreach program includes working closely with numerous local dance studios, teaching injury prevention and providing screenings and dance conditioning workshops.
Jacqui holds a BA in dance from the University of South Florida and an athletic training certificate from the University of Cincinnati. She also has a certificate in Pilates instruction from St. Francis Memorial Hospital dance division in San Francisco and a certificate in Pilates rehabilitation from Polestar Education in Miami, Florida.
After success with the first edition of Dance Anatomy, Medindia chats with Jacqui on the upcoming second edition of the book. Find out from the author, what made her write the book and how to avoid injuries during dance performances.
Q. You have been working with various dance schools and studios across the country but what inspired you to write a book on dance medicine and how did the book happen?
Ans. Several years ago I received an email from an acquisition editor with Human Kinetics interested in having me write this book as part of their 'Anatomy' series. Of course, I was very excited and couldn't wait to start working on it. Dance medicine has been a huge part of my life and I enjoy helping young dancers with conditioning, anatomy and injury prevention education. It was really a perfect fit for me as a retired professional ballet dancer myself.
Q. Who is the target audience for the book? Is it specifically for dancers and dance professionals?
Ans. My target audience is definitely dancers, both students and young professionals. I work with so many dance studios teaching workshops, I know there is a need for this type of education. Dance instructors of all levels have reached out to me saying how beneficial 'Dance Anatomy' has been in helping them with including more anatomy education in their technique classes.
Q. Do you think non-dancers can relate to or benefit from the book?
Ans. As a licensed athletic trainer myself, this book also helps to educate other health care professionals interested in working with the dancer population. Athletic trainers, physical therapists, massage therapists can learn about dance technique and injury prevention for dancers, which can help with treating or conditioning dancers.
Q. There are safety tips that are provided for different exercises. Do you believe that there are safety concerns while performing these exercises without trained supervision?
Ans. Thank you for the question and being concerned about safety, I worked really hard to explain each exercise in detail with proper breathing, proper execution and included the safety tips. But, as always, if a dancer is suffering from an injury, it is important to talk to their health care professional about any exercise routine.
Q. The pictures are very specific to each movement or exercise. Could you tell us how they were done and how the visual representations help the reader?
Ans. The 'Anatomy' series that Human Kinetics publishes is one of my favorites across all markets, I love the visuals! I believe it is extremely beneficial for dancers to see which muscles they are trying to engage to make various movement happen.
Visual learning style can help dancers process information better. I also love working with Peter Mueller, our photographer, he was a professional dancer as well and understands the dancer human body. Once I knew what exercises I wanted to use we were able to get the best photo image of that exercise. I am so happy with the anatomy illustrations.
Q. What is different about the second edition of Dance Anatomy?
Ans. There are two new chapters, one on injury prevention and another on brain basics. I have also included new and more advanced exercises. I have formatted and added a section in each chapter breaking down some basic dance movement, like the demi plié, the arabesque and cambre derriere. Each basic dance movement lists which muscles are working to produce that movement, which is a great tool for teachers.
Q. How many different languages has the book been translated into?
Ans. The first edition was translated into 12 languages including French, German, Polish, Russian, Portuguese, Italian, Japanese, Korean, Serbian, Traditional Chinese, Simplified Chinese and Spanish.
The second edition has just released and has been translated into 2 languages, German and Simplified Chinese. But we could see a lot of translations in the coming months/years.
Q. How do you think the book will contribute to the field of dance, dance medicine, and injury prevention?
Ans. All I want is to promote dancer health education, for dancers, teachers and health care practitioners. I hope my Dance Anatomy books will do just that.
Q. What are the most common dance injuries that you encounter?
Ans. Well, it's hard to answer. But some of our younger student dancers from competitive studios we see hip injuries. It seems that some of the young professional trainees are being diagnosed with various stress fractures. The women at the professional level are having foot and ankle injuries. Injuries often vary depending on the type of choreography they are rehearsing as well.
Q. Can you give five tips to our members on how to avoid dance injuries?
Ans.
Practice excellent technique and alignment.
Strengthen your abdominals.
Participate in a cardio program.
Make healthy food choices.
Don't overstretch.
Q. Are there any other books that you are currently writing or are planning on writing?
Ans. Well, right now, I am getting more and more interested in how dancer's brains work, but, that might be a book for another day.
Dance medicine is an evolving, challenging field, given the numerous dance forms all over the world and their related injuries. The book opens up interesting new avenues for medical professionals and trainers to examine in detail the causes of dance injuries, suggest prevention and initiate safe post-rehabilitation return to the dance scene.
While we would have to wait a while to read other books from Jacqui, let's watch out for the latest edition of Dance Anatomy that could take dancers to the next level and dance professionals to do the justice that the art deserves. Be the dancer that you aspire to be with Dance Anatomy.
References :
Haas, J. G. (2010). Dance anatomy. Champaign, IL: Human Kinetics.
Source: Medindia
Source link
#Understand #Dance #Injuries #Dance #Anatomy