News
Six More Migratory Birds Die in Delhi Due To Bird Flu, Total Rises to 64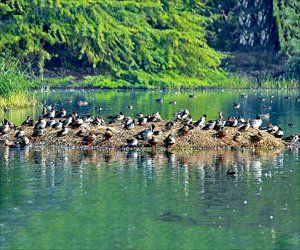 As many as 17 birds died in the Deer Park on Saturday, and 10 died on Sunday. The deaths of four other birds on Monday were reported from a lake behind Shakti Sthal near Raj Ghat, Rai said.
"We have started close monitoring of the lake along with other locations. But with bird deaths being reported from more locations, there is need to increase vigilance," Rai said. He issued a health advisory with a detailed list of do's and don'ts for the residents of the city.

Advertisement



The measures recommended in the advisory include one to avoid eating of raw or half-boiled eggs and meat. Rai on Monday held a meeting of the coordination committee in the Delhi Secretariat to consider further action on checking the spread of H5N8 influenza virus.
He ordered all government departments to spread "chuna" (lime powder) around every water body. The minister also ordered them to spray antivirus Sodium Hypochlorite around all water bodies where birds gather.
Source: IANS
Source link
#Migratory #Birds #Die #Delhi #Due #Bird #Flu #Total #Rises