Nutrition
Questified Onion Cheese Rings | Quest Blog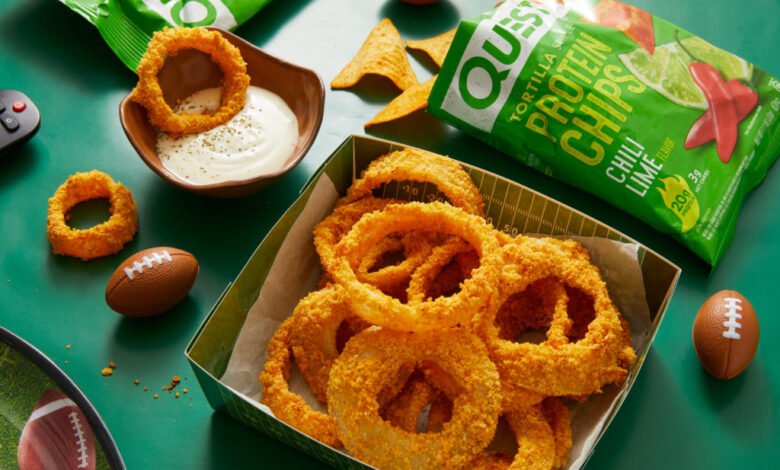 If you're hosting an event at which friends and family will gather to watch a certain athletic contest, definitely try out this extremely Questified take on onion rings. It's a crowd-pleaser team up featuring Quest Chili Lime flavor Protein Chips and, we presume, several onions.
Check out the full recipe below:
NUTRITIONAL INFO
ONION CHEESE RINGS
Yields: 3 servings |  Serving Size: 5 rings
Calories: 220  | Protein: 19g  | Fat: 8g | Net Carb: 10g
Total Carb: 12g   | Sugar: 0g
Ingredients
ONION CHEESE RINGS
1 large sweet onion
1 egg
1 tbsp heavy cream
2 bags Quest Chili Lime Chips, crushed
1 tbsp coconut flour
⅓ cup grated parmesan cheese
Method
Preheat the oven to 400 F and prepare a baking sheet with parchment paper.
Cut the onion into rings (about ½ inch).
Place the egg and heavy cream into a bowl and whisk until smooth.
Place the chips, flour and parmesan cheese into a food processor and pulse until fine crumbles form and then transfer to a bowl.
Dip each onion ring into the egg mixture and make sure it's completely covered and then cover the ring in the chip mixture.
Repeat until you have used all of the rings. Place the rings on the baking sheet and bake for 6-8 minutes and golden brown. Cover with tin foil and continue baking for an additional 5 minutes.
Serve with your favorite condiments.
Source link
#Questified #Onion #Cheese #Rings #Quest #Blog