Pharma News
Oncology biosimilar case studies: bevacizumab biosimilars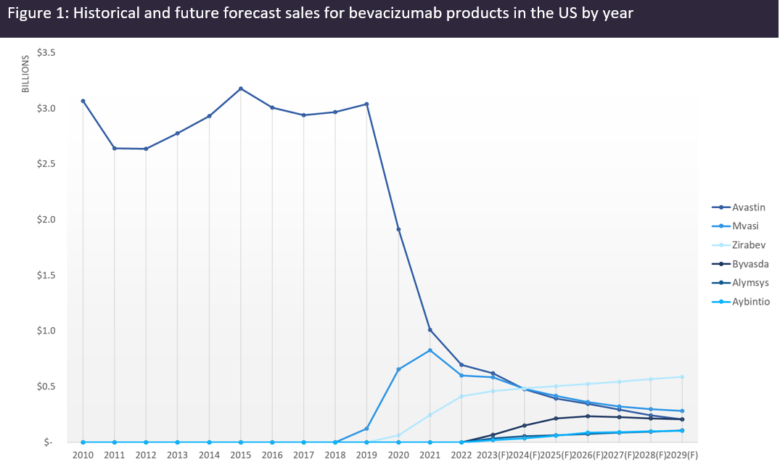 Roche's anti-VEGF monoclonal antibody Avastin (bevacizumab) is one of the most successful oncology drugs of all time. Avastin received its first FDA approval in 2004 for the treatment of colorectal cancer and reached peak global sales of $7.1bn in 2019. Like other extremely successful products such as Rituxan, Avastin's success made it a prime target for biosimilar developers.
Globally, the first bevacizumab biosimilar, Amgen's Mvasi, was approved in the US in 2017 and in the EU in 2018. In Japan, the first biosimilar was Pfizer's Bevacizumab in 2019. Bevacizumab biosimilars have since achieved notable commercial success, with global sales surpassing $2.2bn collectively.
An analysis of the sales of bevacizumab products in the US (Figure 1, above) shows that the introduction of biosimilars in the US took at least two years to have a significant impact on Avastin's sales. GlobalData forecasts Avastin sales to plummet to just over $600m by 2029 while biosimilars will collectively surpass $2bn in sales as early as 2025 and stay at the same level by 2029, becoming responsible for around 75% of the total market share for bevacizumab products. Given the lower price of biosimilars, the patient share will be even higher than the market share, meaning that over 80% of US patients will have switched to biosimilar bevacizumab by 2029. As of 2022, more than 60% of US patients and over 30% of EU patients are estimated to have switched to biosimilar bevacizumab.
Company-reported data suggests that as of 2022, the US is the most valuable market for bevacizumab biosimilars, with 66% of total market share, followed by the EU with 28%, and the rest of the world with 6%. According to GlobalData's Consensus Analyst and Sales Forecast database, Pfizer's Zirabev will be the first single biosimilar product to surpass the original Avastin in global sales, in 2028.
One limitation of the analysis is that not all biosimilar products have reported sales by their marketing company, so the biosimilar market penetration as of 2022 is certainly higher in reality. GlobalData's POLI database shows that currently, bevacizumab biosimilars are priced at 77%–87% of Avastin's price in the US.


Source link
#Oncology #biosimilar #case #studies #bevacizumab #biosimilars