Pharma News
Market cap growth surges for over half of the top biopharmaceutical companies in 2022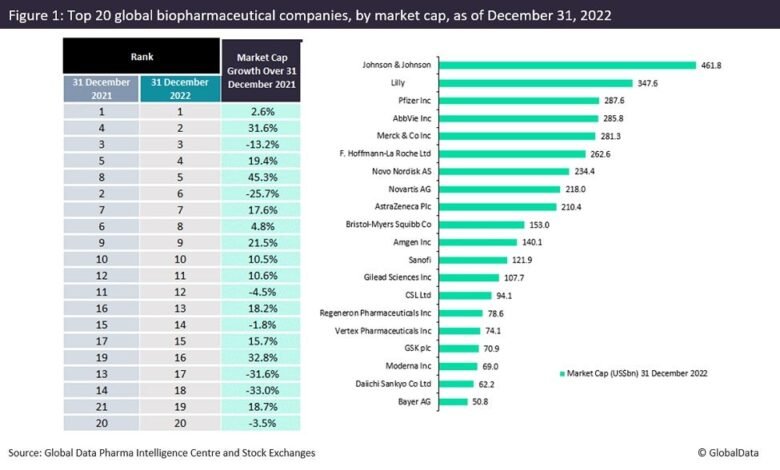 The top 20 companies in the global biopharma industry saw 5.4%* aggregate market capitalization from $3.43 trillion to $3.61 trillion over the past year, according to GlobalData's Pharma Intelligence Center Companies Database. The 13 top players experienced significant growth over 2022 despite the decline in demand for COVID-19 vaccines and therapeutics, as well as uncertainty surrounding pricing due to the newly passed Inflation Reduction Act in the US.
Pfizer maintained its third-place position in the market in 2022, reporting a market capitalization of $287.6 billion on Dec 31, 2022. Despite receding sales, Comirnaty, its partnered COVID-19 vaccine with BioNTech, is still forecast to reach the analyst consensus global forecast sales of $33 billion for 2022, according to GlobalData's Drugs Database Pharma Intelligence Center. Pfizer is likely to continue maintaining its position by breaking into the race for a respiratory syncytial virus (RSV) vaccine; it is currently awaiting FDA marketing approval for its RSV vaccine, which was awarded priority review with a PDUFA date decision in May 2023. This puts Pfizer alongside competitors such as GSK, Johnson & Johnson, and Moderna, which also have drugs in pre-registration or Phase III.
Johnson & Johnson maintained its top position in 2022, followed by Lilly.
Merck & Co., Vertex, and Lilly demonstrated a favorable year with more than 30% growth in market capitalization, as shown in Figure 1.
Merck & Co. witnessed the biggest market capitalization growth of 45.3% from $193.6 billion to $281.3 billion between Dec 31, 2021 and Dec 31, 2022, owing to expansion in its vaccine and oncology portfolio. The company's blockbuster immunotherapy oncology drug, Keytruda, a monoclonal antibody that targets PD-1, continues to reap record sales with an analyst consensus global sales forecast of $20.8 billion for 2022, according to GlobalData's Drugs Database Pharma Intelligence Center.
Vertex and Lilly also witnessed strong growth in market capitalization over 2022, with 32.8% and 31.6%, respectively. Vertex's growth is mainly due to its franchise of therapies to treat cystic fibrosis. Its positive performance is expected to continue with the triple combination therapy, Trikafta/Kaftrio, global sales of which are projected to increase by 35.2% for 2022 according to GlobalData's Drugs Database Pharma Intelligence Center analyst consensus. Additionally, the company recently received IND approval in Dec 2022 for its mRNA therapy VX-522, which targets the underlying cause of cystic fibrosis, which is being developed in partnership with Moderna. Lilly also showed strong stock performance last year with its share price growing from $276.22 to $365.84. The company could retain its status in the biopharma industry this year due to expected revenue growth driven by the potential FDA approval of several breakthrough therapies, including donanemab for Alzheimer's disease, mirikizumab for ulcerative colitis, and lebrikizumab for atopic dermatitis. While regulatory decisions are pending in 2023 for donanemab, the amyloid-targeting monoclonal antibody is anticipated to be on track for traditional approval later this year.
Moderna saw a 33% decline in market capitalization, largely attributed to a drop in COVID-19 vaccine sales despite its post-COVID-19 efforts. However, the company has recently seen promising results from its investigational mRNA-1345 RSV vaccine in phase III trials, which the company intends to submit for regulatory approval in H1 2023.
Roche's market capitalization fell with a decline in sales of their Regeneron-partnered COVID-19 therapy, Ronapreve, and increasing competition from biosimilars for their oncology drugs Avastin, Herceptin, and Rituxan. According to Roche, the company is expected to offset its losses through the growth of its multiple sclerosis drug, Ocrevus, and the hemophilia drug Hemlibra.
The biopharma industry continues to remain resilient while facing mounting pressure on drug pricing and a downturn in demand for COVID-19 therapies. Top players in the pharmaceutical industry will likely redirect their focus on non-COVID-19 products, as they work to navigate upcoming patent expirations and take a more targeted approach to improve R&D efforts in order to replenish their innovator product pipelines.
*5.4% increase in aggregate market capitalization is taken based on top 20 global pharmaceutical companies on 31 Dec 2021 (includes BioNTech) vs top 20 global pharmaceutical companies on 31 Dec 2022 (includes Daiichi Sankyo)


Source link
#Market #cap #growth #surges #top #biopharmaceutical #companies