Cancer
Dr. Baxter Montgomery prescribes plants to reverse heart disease, obesity and diabetes
Dr. Baxter Montgomery is a Board-Certified Cardiologist with decades of experience in diet and lifestyle medicine. He is a Clinical Assistant Professor of Medicine of Cardiology at the University of Texas in Houston, and a Fellow of the American College of Cardiology.
Dr. Montgomery founded The Montgomery Heart & Wellness Center in 1997 with the mission to reverse and prevent life-threatening illnesses. He combines his medical practice with food-driven lifestyle intervention and introduces patients to a plant-based diet to help reverse chronic conditions such as heart disease, hypertension, obesity, and diabetes without medications or surgeries.
Dr. Montgomery is a courageous cardiologist helping patients reverse chronic diseases and recover their health with plant-based nutrition. In our interview we discuss the power of raw food and juice fasting, lowering cholesterol naturally, and he shares incredible stories of helping extremely ill patients recover with plant-based nutrition. I know you will enjoy this interview!
Watch our interview below, or listen to it on the Chris Beat Cancer podcast on iTunes or Spotify.
Show notes
-Dr. Montgomery's journey into plant-based medicine [0:52]
-Dr. Montgomery's 30-day juice feast with John Rose [7:00]
-Should you be concerned with elevated cholesterol? [11:45]
-Contributing factors of high cholesterol [15:53]
-Case study: 10-day juice fast for heart disease and diabetes [21:40]
-Case study: Healing lung disease, congestive heart failure, and kidney failure [23:40]
-Case study: Healing congestive heart failure and lupus [27:00]
-Case Study: Healing heart disease and blood clots [29:30]
-It's never too late to heal with a plant-based diet! [30:43]
-Food is the foundation of health [40:00]
-Are patients receptive to changing their diet and lifestyle? [40:20]
-The physiological and psychological benefits of taking massive action [44:34]
-Your success will impact people around you [48:50]
-What Dr. Montgomery eats in a day [49:51]
-Is it best to eat cooked or raw food? [56:03]
-The dangers of processed food [1:01:36]
Beat Cancer Kitchen: My New Recipe Book, Deliciously Simple Plant-Based Anti-Cancer Recipes Get it on Amazon here

Beat Cancer Daily 365 Days of Inspiration, Encouragement, and Action Steps to Survive and Thrive Get it on Amazon here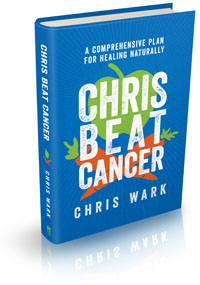 Chris Beat Cancer: A Comprehensive Plan for Healing Naturally,
published by Hay House, is a National Bestseller as ranked by USA Today, The Wall Street Journal, and Publishers Weekly!
Get it on Amazon here
, or anywhere books are sold.
I've interviewed over 60 people who've healed all types and stages of cancer. Check them out here. Or use the search bar to find survivors of specific cancer types.
I also created a coaching program for cancer patients, caregivers and anyone who is serious about prevention called SQUARE ONE. It contains the step-by-step strategies used by myself and everyone I know who has healed cancer with nutrition and natural, non-toxic therapies.
Watch SQUARE ONE Module 1 for free here
(((c)))

Chris Beat Cancer is reader-supported. If you purchase a product through a link on this site I may receive compensation from the affiliate partner (like Amazon). Your support helps fund this blog and my mission so my team and I can continue to do the work that we do. Thank you!
Source link
#Baxter #Montgomery #prescribes #plants #reverse #heart #disease #obesity #diabetes