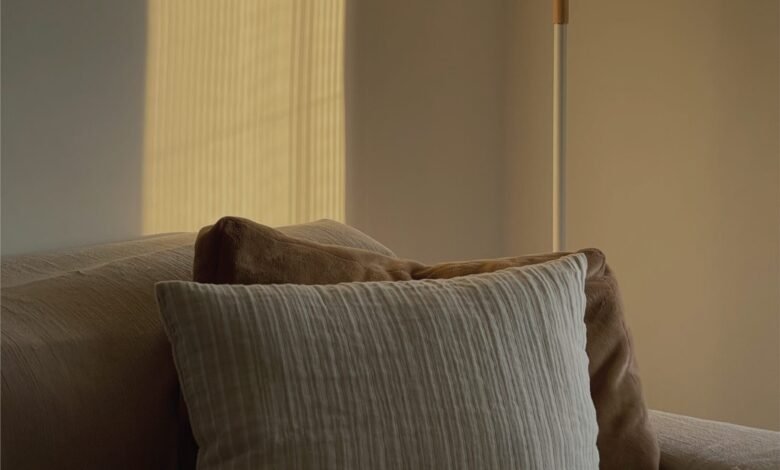 Our living space can impact how we feel. Changing our environment doesn't have to be expensive, there are little, inexpensive things we can do that can make a big difference.
Stop, sit, look
We can spend time in our living space without noticing how it affects us. Before we change anything, we need to figure out what's working, and what isn't.
Is there anything we move, kick, or snag ourselves on daily? Anything we find handy? Does the storage make sense? How do we feel about the light? What about the colours? Do we feel properly "at home"?
Understanding how we interact with our environment can help us to make deliberate, intentional, considered changes.
Switching rooms around
Sometimes, our rooms are the wrong way around. Perhaps our lounge gets loads of light and our office is a bit dark… but we need to be awake when working and want to relax in our lounge.
Swapping rooms isn't always an option; size, fittings, and plumbing matter. But before making big changes, doing a room switcheroo might save us some time and effort.
Little living space stressors
We all have little things in our environment that bother us. Try to notice them, note them down, and tackle them one at a time (when we have the energy). This should help to reduce our background stress levels one little bother at a time.
Lighting in our living space
Dark, dingy places can make us feel dark and dingy. Too bright or white, and it might feel anxious, or on edge.
Altering the lighting in a room doesn't have to cost the earth. Removing some bulbs reduces light (and our electricity bills!). Warm white, bright white, or colour-changing bulbs will all affect the feeling of a space. Free-standing, strip, fairy, or table lights give us more flexibility than main room lights. Especially if we live with others who have different preferences from us. If we have a bigger budget, we could investigate installing dimmer switches or 'smart' technology.
Wall colour, furnishings and even the floor can affect how light a room feels, so if we've adjusted the lighting and it's still not 'right', it's worth considering the room as a whole. Something as simple as adding a curtain tie to keep them well clear of the windows can make a huge difference. We could also have a quick look out of the window – if there is something like a hedge blocking the light and we're able to do something about it, then that could be helpful.
Sound
Beyond changing the volume of things we use, and asking people to use 'indoor voices', we might not think we can do much about the noise in our living space.
We can often do more than we think. Textiles absorb sounds. A brand-new fluffy carpet might not be affordable. But rugs, cushions, curtains, blankets, duvets, bath mats, and towels all absorb sound. Rugs, cushions and curtains are often sold second-hand, too. Draught excluders by our external doors and adding foam around the edges of windows and doors can help to reduce noise coming in from outside.
Textures
Textures can help us to feel grounded. Rugs, curtains, cushions, blankets, bedding, throws or wall hangings can all add texture. There are also some less-obvious options like plants, wooden shelves, slate coasters or planters. Using natural materials in our living space can help spaces feel more relaxed.
The smell of our living space
Diffusers, candles, wax melts, incense, and room sprays can all help us add specific smells to our living space. Even detergent or fabric conditioner can create a comforting, familiar smell.
If we find smells difficult, we may want to switch to scentless detergent and be careful with the scent of any cleaning products we use.
A busy or calm living space
Some of us like busy spaces. Patterned fabrics on furniture and curtains. Walls covered in artwork, photos, and patterned wallpaper. Shelves full of trinkets. They help us feel at home, comfortable, and safe.
For others, that's a perfect description of a very anxiety-inducing environment. Our eyes can't stop looking at everything, making our brain work overtime. We can't relax or settle down because there's too much information coming at us from every angle. It creates an underlying bubbling anxiety – we need to reduce the amount of 'stuff'.
Easy reach essentials
We've all been there – we've finally sat on the sofa with a snack, promptly been sat on my a cat… and our phone shows 6%. 6% and not a charger in sight.
Making sure that things we use regularly are within reach of our usual sitting spots avoids lots of frustration. Chargers, remotes, medication, tissues, a notebook or journal, writing or art supplies, a blanket, chapstick, glasses, pet treats, snacks, and a water bottle. Whatever it may be (and it will be very individual), if there's something that we regularly hunt for, then make sure it's close to our comfiest spot.
Storage
Storage can be an emotionally-charged topic. What do we keep? What should we throw away? Where do we put everything?
No matter how hard we try, we all have items that don't have a 'place'. If clutter overwhelms us, then trying to make sure that most things have a 'home' can help to avoid it. Especially if our storage has a door, lid, or curtain, so the contents are hidden.
When we're not feeling great, we often don't have the mental space to sort things out. Having an unsorted space that we can throw things in and shut a door on might be helpful. Things can stay there, out of the way, until we have the brain space to put them away properly.
Hooks and things
As well as general storage, there might be other useful little things that we can dot around our living space that make a big difference.
For example, sticking a hook by the door might result in fewer coats on the floor. We might need a place for letters or paperwork that needs sorting. A box for the plastic charity bags that arrive each week. A spot for those clothes that aren't clean but don't need a wash yet.
How we use our living space
Having boundaries between spaces can help us to switch between "do things" and "relax" modes. It's especially important if we work from home.
Most of us have rooms with multiple uses. For example, our kitchen might be our dining room, office, or craft space depending on the time of day. Subtle changes can help us to switch "mode". For example, we might swap a wipe-clean table cloth, for our laptop, for a craft mat. Perhaps we work from one side of the table and craft from the other.
As well as drawing a line between specific activities it's worth considering other things that raise our stress levels. For example, we might choose to avoid difficult phone calls or letter-opening when in our bedroom.
The anxiety of change
Changing things in our living space can make us anxious, even if it's a good change. It can take time to settle into a space, and that's okay. If something feels 'not quite right', it might be worth waiting to see whether a change we've made really isn't right, or whether it's just different from what we're used to.
Keep tweaking
It's important to remember that we can always change or tweak things in our living space. Those with a perfectionist streak often worry about getting things 'right', but nobody's environment is static. Our spaces move, change, and grow with us and anyone we live with.
Please help us to help others and share this post. You never know who might need it.


Source link
#Creating #mentally #helpful #living #space