Pharma News
CMO Moves: Regulatory catalysts for therapy manufacturing -January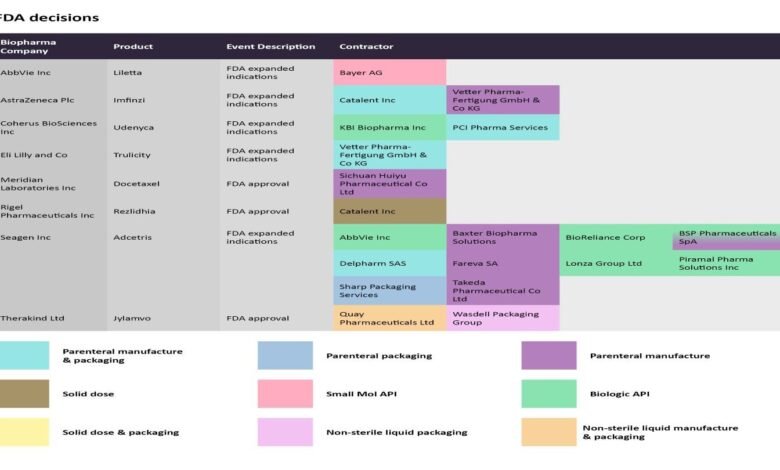 In the first 2023 edition of the CMO Moves monthly series, Pharmaceutical Technology explores recent news stories on regulatory and reimbursement decisions in different countries, and the companies linked to their success and failures.
In order to get a therapy to the market, pharma companies often outsource the drug manufacturing to specialist contract manufacturing organizations (CMOs). Using the manufacturing contract-related data collated from PharmSource reports, and news from the GlobalData Pharma Intelligence Center, Pharmaceutical Technology has collated some of the key regulatory events from late November to late December that will likely impact manufacturing volumes, and stakeholders that will likely be affected.
GlobalData is the parent company of Pharmaceutical Technology.
EMA and NICE news
The UK's National Institute for Health and Care Excellence (NICE) conducts health technology assessments (HTAs) based on a cost-effectiveness analysis for the given use of a therapy in a specific setting. In late November, the agency terminated an appraisal of Novartis's Kymriah (tisagenlecleucel) for treating follicular lymphoma after two or more therapies, after Novartis did not provide an evidence submission. The agency cited the same reason for rejecting Amgen's Kyprolis (carfilzomib) with Janssen Oncology's Darzalex (daratumumab) and dexamethasone to treat relapsed/refractory multiple myeloma, when Amgen did not submit the necessary data.
In the case of the chimeric antigen receptor (CAR)-T therapy Kymriah, Fraunhofer Society for the Promotion of Applied Research eV, Cell Therapies, Lonza Group, and Oxford Biomedica are contracted to manufacture the biologic active pharmaceutical ingredient (API).
On November 30, the UK's Medicines and Healthcare products Regulatory Agency (MHRA) awarded a Great Britain marketing authorization to Aurinia Pharmaceuticals' Lupkynis (voclosporin) for the treatment of lupus nephritis. While Catalent Inc and PCI Pharma Services are in charge of the solid dose and packaging of Lupkynis, Lonza is manufacturing the small molecule API. The Institute for Clinical and Economic Review (ICER) had previously announced a favorable cost-effectiveness assessment for this drug for this condition.
In the same month, the EMA expanded the label of Gilead Sciences' Biktarvy (bictegravir/emtricitabine/tenofovir alafenamide) to include its use for virologically suppressed HIV-positive children. Esteve Pharmaceuticals SA, Evonik Industries AG, Uquifa SA, and Yuhan Chemical Inc are manufacturing the small molecule API.
The EMA also expanded the label of AbbVie's Skyrizi (risankizumab) to include its use to treat moderate-to-severe Crohn's disease. Boehringer Ingelheim Biopharmaceuticals is contracted for the parenteral manufacturing and biological API production for Skyrizi.
On December 5, the European Commission (EC) approved Amryt Pharma's Mycapssa (octreotide), the only oral somatostatin analog indicated to treat acromegaly. Earlier this month, Amryt was in the news when Chiesi Farmaceutici signed an agreement to acquire Amryt for $1.48 billion.
FDA expands approval labels
The FDA passed several positive supplementary approval decisions involving younger patients. The agency expanded the use of Eli Lilly's Trulicity (dulaglutide) injection to include pediatric type 2 diabetes patients ages 10 years and older, to improve glycemic control as an adjunct to diet and exercise. Vetter Pharma-Fertigung GmbH & Co KG is conducting the parenteral manufacture and packaging for Trulicity. On November 10, the FDA also expanded the label of Seagen's Adcetris (brentuximab vedotin) to treat pediatric patients ages two years and older with previously untreated high-risk classical Hodgkin lymphoma (cHL) in combination with other standard drugs. Seagen has contracted the antibody drug conjugate's (ADC) manufacturing to several companies. Baxter Biopharma Solutions, Fareva SA, BSP Pharmaceuticals SpA, and Takeda Pharmaceuticals are manufacturing the parenteral portion of the ADC.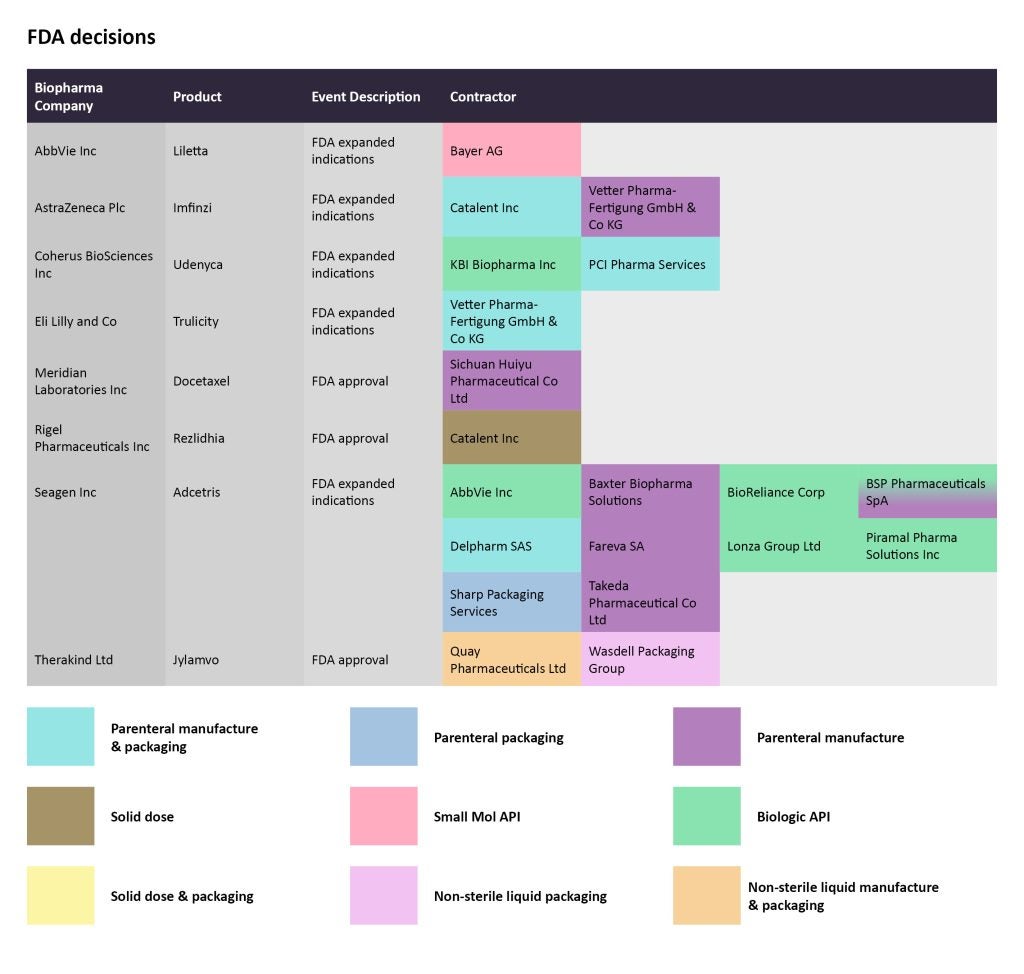 In early December, the FDA approved Rigel Pharmaceuticals' Rezlidhia (olutasidenib) as a treatment for relapsed/refractory acute myeloid leukemia (AML) with an IDH1 mutation. Catalent Inc has been tasked with the solid dose manufacturing for the drug.
To read the previous editions in this series, click here, and here.


Source link
#CMO #Moves #Regulatory #catalysts #therapy #manufacturing #January