Pharma News
Can the FDA keep the momentum going for rare disease drug approvals?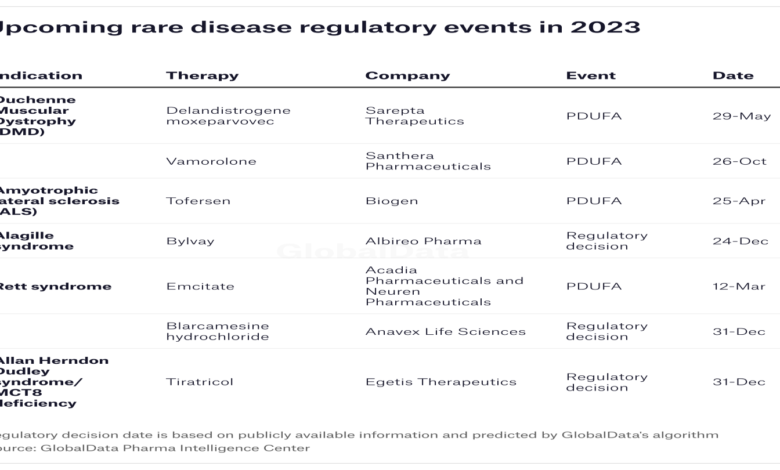 In 2022, the FDA approved only 37 new medicines, an underwhelming number compared to 98 in 2018. However, while only around 34% of the approvals in 2018 were for orphan drugs, 54% new approvals in 2022 were for drugs to treat rare diseases.
Major pharmaceutical acquisitions have taken place in recent months in the rare disease space, as the number of orphan drug approvals continues to grow. Amgen buying Horizon Therapeutics and Ipsen's acquisition of Albireo Pharma show an increased appetite for investment in therapies for rare diseases.
This was not always the case. "Up until this century, drug companies were not particularly interested in rare diseases," says Dr. Alan Percy, MD, a pediatric neurologist at the University of Alabama in Birmingham. "[In] the last 20 years, there have been a large number of companies that have jumped into the rare disease arena, and for some diseases like Rett syndrome, they have targeted resources to developing therapeutic agents," he says.
More therapies to meet unmet needs
GlobalData predicts that at least 35 US regulatory decisions on drugs for rare diseases are on the horizon for 2023. GlobalData is the parent company of Pharmaceutical Technology.
Along with these drugs comes the opportunity to raise awareness and funds for different rare diseases. One of these is MCT8 deficiency, a condition caused by a mutation in the MCT8 gene, which affects one in 700,000 males. The mutation leads to disordered thyroid hormone transport, which causes patients to experience intellectual and motor disabilities. Nicklas Westerholm, the CEO and president of orphan drug developer Egetis Therapeutics, says disease awareness amongst paediatric neurologists and endocrinologists is low for MCT8 deficiency.
Egetis is banking on tiratricol, an oral small molecule that restores dysfunctional thyroid hormone signalling, to be the first drug approved for this condition. The company plans to submit an MAA to the EMA in H1 this year. While in the US, the therapy is already being prescribed under an expanded access program, the FDA has requested additional data from a randomised, placebo-controlled trial before it will allow Egetis to schedule a PDUFA date. Westerholm says that Egetis plans to begin a small, randomised, placebo-controlled Phase III trial in the next couple of weeks.
Westerholm highlighted the company's "robust data" from two different patient cohorts for its approval. In a Phase II trial, tiratricol significantly decreased patients' serum T3 concentrations from 4.58 (±1.11) nmol/L at baseline, to 1.66 (±0.69) nmol/L at last visit. T3 is a major hormone in the blood that regulates thyroid levels. A major symptom of MCT8 deficiency is an overexpression of T3.
Elsewhere, Albireo Pharma is aiming to file for supplemental NDA to the FDA for its drug Bylvay (odevixibat), which could be the second treatment for Alagille syndrome, a rare genetic disorder caused by a JAG1 gene mutation. The condition is characterised by blockage of the flow of bile from the liver, and pruritus or itching. The only FDA-approved drug for Alagille syndrome is Mirum Pharmaceuticals's Livmarli (maralixibat), which treats cholestatic pruritus or itch in patients ages one year and above.
Phase III results showed that Bylvay caused a statistically significant improvement in the primary endpoint of change in pruritus with a reduction of 1.69 points in scratching score, as measured by the Albireo Observer-Reported Outcome Caregiver Instrument, compared to a 0.80-point reduction in the placebo arm.
New methods for tackling rare diseases
In Europe and North America, there are approximately six individuals per 100,000 with Duchenne muscular dystrophy (DMD), according to the Muscular Dystrophy Association. DMD pathology is caused by a lack of dystrophin protein, leading to the weakening and damage of muscle cells progressively over time.
In 2023, Sarepta Therapeutics has a PDUFA date for the first gene transfer DMD therapy, delandistrogene moxeparvovec (SRP 9001), on May 29. Delandistrogene moxeparvovec is delivered to muscle tissue for the targeted production of essential components of dystrophin via a gene transfer using the rh74 vector. With this therapy, Sarepta is expanding beyond its other exon-skipping DMD therapies like Exondys 51 (eteplirsen), Vyondys 53 (golodirsen), and Amondys 45 (casimersen).
Dr. Jerry Mendell, MD, professor of paediatrics and neurology at the Ohio State University College of Medicine, is optimistic for its approval and says the drug has a good safety profile. In clinical trials, the drug showed a 3.8-point improvement (unadjusted means) and a 3.2-point improvement (least squared means) on the North Star Ambulatory Assessment (NSAA) one year after treatment when compared to the control (p=0.0001). The NSAA measures functional motor abilities in DMD patients.
The therapy's approval can also have far-reaching consequences. "If the drug is approved, it is likely that newborn screening for DMD may be approved," says Mendell. This would allow patients to be treated at earlier stages, he adds.
In the same DMD space, Santhera Pharmaceuticals' vamorolone offers an alternative approach. The standard course of treatment for children and adolescents involves corticosteroids to control symptoms and slow disease progression through anti-inflammatory action. Santhera's new therapy binds to the same receptors as corticosteroids, but modifies the downstream activities of the receptors, potentially avoiding the side effects seen with corticosteroids. In a recent Phase IIb study, the vamorolone group met the primary efficacy endpoint of the Time to Stand test, a standard DMD test to measure leg function, with a score of 0.054 rises/second (SD 0.0666) compared to negative 0.07 rises/second (SD 0.0628) in the placebo group.
However, before the drug can receive an approval, Santhera will have to overcome doubts about vamorolone's safety. One of the safety endpoints for the Phase IIb trial (NCT03439670), body size measured by the BMI-Z score, has been criticised since parents control their wards' diets to different degrees, and this may affect results. Furthermore, results show that stronger treatment efficacy correlates with higher dosages of the drug, and all patients in the highest dosage group had an adverse event. The FDA will weigh the concerns and benefits of this drug before its PDUFA date in October.
Funding and disease awareness
Lack of disease awareness in wider research communities often leads to a subsequent lack of funding for rare diseases. This has been an issue for Rett syndrome, a neurological and developmental disorder, which causes a progressive loss of motor skills and language. The condition affects one in 10,000 to 15,000 live female births. Most cases are caused by mutations in the methyl CpG binding protein (MECP2) gene, which controls the function of many other genes.
While trofinetide, which is being developed by Acadia Pharmaceuticals and Neuren Pharmaceuticals, has a PDUFA date in March, a regulatory decision for Anavex Life Sciences' blarcamesine hydrochloride is also expected by the year's end. Percy, who worked on trofinetide clinical trials, says, "The major improvement that the families commented on with trofinetide was that the children seem to be more alert and interactive and aware of what was going on and were able to communicate in a better way with their parents or caregivers." This was affirmed by Phase III data showing that the drug demonstrated a statistically significant improvement over placebo for both co-primary endpoints—the Rett Syndrome Behaviour Questionnaire (RSBQ) and Clinical Global Impression-Improvement score assess behavioural and emotional characteristics and the patients' global functioning. "If you would look at the family response, you would feel encouraged that there is some future for this agent.".
Blarcamesine's Phase III clinical trials show similar levels of significant improvement in communication and interaction, as patients had statistically significant improvement in the RSBQ primary endpoint of 72.2% compared to 38.5% on placebo.
While most cases of diarrhea seen with trofinetide are manageable with other medications or through diet changes, Percy says safety may be a significant factor in the FDA's decision, leading to a possible request for further evidence. Still, Percy says an approval for either drug might stimulate other companies to develop an improved product.
Next steps for ALS
Biogen aims to follow Amylyx's successful approval last year and provide another option for treatment of SOD1 amyotrophic lateral sclerosis (ALS), with its oligonucleotide therapy tofersen. SOD1 ALS arises due to a mutation in the SOD1 gene and the condition accounts for 58.9% of familial ALS cases. Tofersen has a PDUFA date of April 25.
Dr. James Berry, director at the Averill Healey Endowed Chair in ALS, an investigator on tofersen trials, says that there's convincing evidence that the drug slows ALS progression. Phase III results show that earlier initiation of the drug demonstrates a slower decline in clinical function (difference of 3.5 points; 95% confidence interval), slower reduction in respiratory function (difference of 9.2 percent-predicted; 95%), and increased muscle strength (difference of 0.28; 95%), in their total scores on the Revised Amyotrophic Lateral Sclerosis Functional Rating Scale (ALSFRS-R). In his experience, ALS patients have been emphatic that tofersen is one of the few drugs that helped them in clinical trials, he says.


Source link
#FDA #momentum #rare #disease #drug #approvals