Pharma News
Six things to look for when choosing an R&D tablet press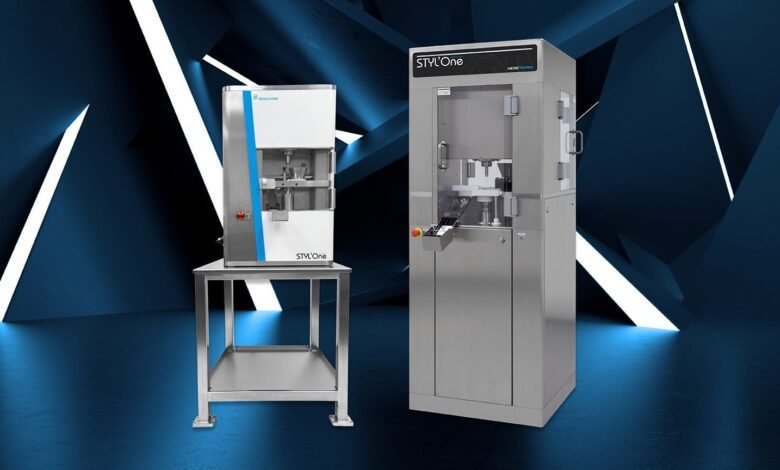 R&D tablet presses are an essential part of the laboratory, providing complete tablet compression functionality from a compact system. Using advanced tableting instrumentation, formulation scientists can perform feasibility experiments that help to improve yields and secure product scale-up later on.
Here are six things to keep in mind when choosing an R&D tablet press.
1. Scalability
Scaling up a tableting process from R&D to production can be challenging, with formulation problems likely to arise in the form of tablet defects. Advanced R&D presses help to prevent issues by mimicking the tablet compression characteristics of high-speed production equipment. Compaction simulators, for example, can replicate the punch movement and speed of a rotary tablet press, mimicking compression time, dwell time, and strain rate.
"This allows formulation scientists to develop tablets as if they were using production equipment, so there is less surprise when they move to industrialisation. It took MEDELPHARM 15 years of innovation to be able to offer this high-end technology using a state-of-the-art automation and motion system," says Quentin Boulay, product marketing manager at MEDELPHARM, the innovators of the STYL'One Evo compaction simulator.
2. Return on investment (ROI)
Price is important for pharmaceutical laboratories, but ROI is what matters most. The right tablet press should result in significant cost savings for your business. It is important to choose a system with comprehensive data acquisition and analysis software. This can help to evaluate tablet quality and develop more robust formulations, meaning less defects and downtime during production. 
With compaction simulation technology, companies can avoid performing experimental development work on their production equipment. Beyond the obvious benefit of freeing up the industrial press for commercial manufacturing, this can lead to several cost savings.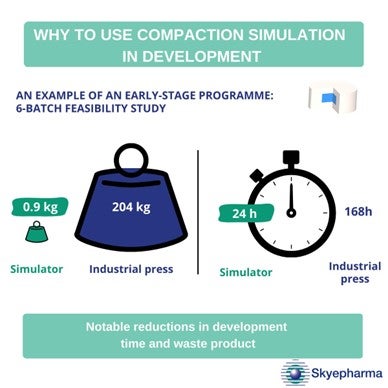 For Skyepharma, a CDMO specialising in oral solid dosage forms, notable reductions in costly product waste was one advantage. Testing a formulation on MEDELPHARM's single-punch tablet press required just 0.9kg of powder. On an industrial press, this would have been 204kg. The CDMO also calculated significant time savings when using the compaction simulator. Thanks to reduced time in the assembly and cleaning phases, experiments that would have taken 168 hours on an industrial press took just 24 hours on the compaction simulator.
A compaction simulator can also be beneficial during production. For example, if quality control is registering a high number of reject tablets, the technology can be used for troubleshooting formulation issues, thus helping companies reduce downtime while optimising output.
3. Versatility
Finding a versatile R&D tablet press is key for flexible drug development. This is where compaction simulation really shines, believes Ingrid Coyle, MEDELPHARM's director of corporate business development and communication. "With one compaction simulator, you have access to several production processes in one place. You can simulate all the high-speed production presses or roller compactors on the market, so this means versatility," she explains.
"Versatility and flexibility is a way to secure your investment for the next 10 to 15 years," agrees Boulay. It is critical to find an R&D press that not only answers the needs of your current project but also those far into the future, whether they be multi-layer tablets or tab-in-tab, for example.
The STYL'One Evo can be used to produce anything from prototypes to clinical batches through a GMP production module. According to Coyle, customers who purchased the system ten years ago for rare disease drugs are now using it to test entirely different formulations in ways they never expected.
4. Ease of use
Tablet compression and powder characterisation technology is inherently complex, but it shouldn't seem so to users. Most vendors will claim to offer intuitive software, so it's important to consider what actions were taken during development to ensure this.
Making complex technology accessible through an easy-to-use interface has been the philosophy behind MEDELPHARM's STYL'One products from day one. "We hide the complexity of the equipment in the technical areas and make it easy for a beginner in compression or an expert," Boulay explains. "This goes from set-up of the experiment to cleaning and dismantling, not forgetting analysis. The software is flexible, whether you want to look at simple graphs or go deeper into the raw data. Every step has been thought of from a user experience perspective."
5. Operator safety
Insufficient toxicology data during the early stages of drug development means new molecules should be treated as dangerous until more is known. With pharma's increasing use of highly potent active pharmaceutical ingredients (HPAPIs), purchasing tablet presses with containment features is becoming more and more critical.
When selecting a system, it is essential to first evaluate the user safety level (i.e. OEB level) your products necessitate. After that, make sure to balance safety against ergonomics, as the introduction of large isolator boxes has the potential to turn a nifty tablet press into a huge, cumbersome machine.
In addition to a very standard airtight design, the very minimal amount of powder used limits operator exposure. For utmost protection, MEDELPHARM offers compaction simulation technology in a variety of OEB security levels, with multiple features available from dry to wet containment. "We placed a strong focus on developing containment machines while maintaining ergonomics, where the operator feels at ease," says Coyle.
6. Strong service network
Every so often, maintenance is recommended to keep your tablet press running smoothly across a long service life. This is usually a simple calibration or a quick change of wear parts, but according to Boulay, "reactivity in case of issues is key." In the time-pressured environment of pharma R&D, slow service from your tablet press partner could set you back in time and money.
Earlier this year, MEDELPHARM became part of the KORSCH group, enabling it to benefit from service teams all over the globe and spare parts inventories in Boston, Lyon, Berlin, and Hyderabad. The company now has tableting experts positioned across the world to service machines, train users, and help customers get the most from their purchases.
Above all, it's the quality of a vendor's service and the scientific expertise behind their machines that buyers should value most. Can their team speak the same language as your scientists? Will they simply sell you a car, or teach you how to drive it too?
"We come from the production environment, and we also have R&D scientists that are working every day with the equipment," adds Boulay. MEDELPHARM also supports a wide community of scientific users in both academia and industry through MySTYl'One.com. "The scientific expertise within the MEDELPHARM Science Lab and now the KORSCH Innovation Centres are all very important because we understand our customers' challenges and we design equipment and solutions accordingly to this."


Source link
#choosing #tablet #press