Pharma News
Pfizer's Covid-19 vaccine sales forecasts upgraded with sales of $37bn in 2022
Pfizer and BioNTech's Covid-19 vaccine, Comirnaty, had a phenomenal year with forecast sales of $37bn in 2022. Comirnaty is expected to maintain the sales dominance it saw during the Covid-19 pandemic going into the future, with the average annual sales forecast rising by 19% between H1 and H2 2022, according to GlobalData's Coronavirus Disease 2019 (Covid-19) Sector Forecast: H2 2022 Global Analyst Consensus Sales Forecast report.
Comirnaty is the leading prophylactic vaccine for Covid-19 and is expected to generate an additional $2.8bn in sales in 2022 compared to GlobalData's H1 2022 forecast. Comirnaty is the first globally approved Covid-19 vaccine. The UK's Medicines and Healthcare products Regulatory Agency (MHRA) approved the vaccine via an Emergency Use Authorisation (EUA) on December 21, 2020. Since then, it has gained approval in 21 geographies, including the US, Japan and the European Union.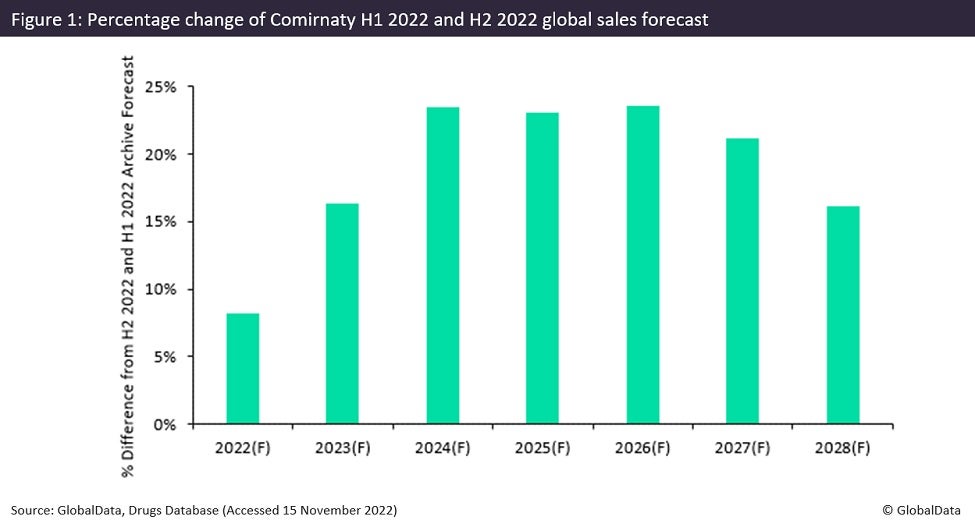 Figure 1 shows that Comirnaty's annual sales forecasts grew by 19% on average between H1 and H2 2022. Comirnaty's 2022 sales forecast is expected to rise by 8%, likely due to Pfizer winning a $3.2bn agreement with the US government to supply 105 million doses for an autumn vaccination campaign. The deal also offers the US the option to procure an additional 300 million doses, including a mix of doses for both adults and children, which could boost future sales if the option is used.
In 2023, Comirnaty is expected to have an even better year, with sales forecasts up by 16%. This is attributed to Q3 2022 approvals for Comirnaty's BA.4 and BA.5 bivalent booster vaccines across key geographies, including the US, Japan and the UK, as well as Comirnaty gaining approval for paediatric use in children aged six months to 11 years in the US, Japan and other geographies.
In the long term, Comirnaty is expected to continue its momentum, with forecast sales up by more than 20% from 2024 to 2027. This is likely due to Pfizer's announcement to increase Comirnaty's US prices four-fold this year from an average of $30/dose to an estimated $110–130/dose. The move should be in line with the US beginning to exhaust its vaccine stockpile alongside the transition towards a privatised commercial model for Covid-19 therapeutics.
Comirnaty will likely remain the top-selling Covid-19 vaccine despite the fact that vaccinations are expected to decline as pandemic pressures begin to ease. This may be attributed to Comirnaty's greater sales volume due to the approval of its Omicron booster vaccine and its approval for paediatric use, which is likely to increase sales in the short to medium term. In combination with Pfizer's move to increase pricing in the US, this could lead to increased revenue over the long term.


Source link
#Pfizers #Covid19 #vaccine #sales #forecasts #upgraded #sales #37bn