News
Novel FDA-Approved Drug Treats a Common Itch Condition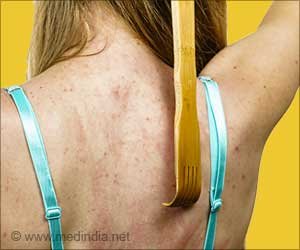 Notalgia paresthetica is a common and underdiagnosed nerve illness characterized by a persistent itch in the upper back. There are no FDA-approved therapies for this condition at this time.



Oral Medicine for Notalgia Paresthetica
However, a new study published in the New England Journal of Medicine reveals that patients suffering from the disorder's moderate-to-severe itching could benefit from oral difelikefalin. The study was led by researchers at Mount Sinai's Icahn School of Medicine.

What is Difelikefalin?
Difelikefalin, a selective kappa-opioid receptor agonist, is currently exclusively licensed by the FDA as an injection for the treatment of moderate-to-severe itching associated with chronic kidney disease in individuals undergoing hemodialysis.
Difelikefalin Reduces the Intensity of Itch
"For those who experience chronic itch of any kind, relief can sometimes seem unattainable," said principal investigator Brian S. Kim, MD, MTR, FAAD, the Sol and Clara Kest Professor of Dermatology, Vice Chair of Research, and Director of the Mark Lebwohl Center for Neuroinflammation and Sensation at Icahn Mount Sinai. "In this Phase 2 trial, treatment with difelikefalin resulted in a reduction in the intensity of itch in patients with notalgia paresthetica."
Patients with moderate-to-severe itching from nostalgia paresthetica were randomly assigned in a 1:1 ratio to receive oral difelikefalin 2 mg or a placebo twice daily for eight weeks in the double-blind, placebo-controlled experiment. The primary result was the change in the weekly mean of the daily Worst Itch Numeric Rating Scale, where 0 means "no itch" and 10 means "worst itch possible" throughout eight weeks. Secondary clinical outcomes included assessments of the itch-related quality of life and itch-related sleep.
"The encouraging results achieved in this trial could reenergize the field and mark an important step toward improving symptoms of itch for patients with notalgia paresthetica," said Dr. Kim, senior author of the paper, titled "Phase 2 Trial of Difelikefalin in Notalgia Paresthetica."


Source: Medindia
Source link
#FDAApproved #Drug #Treats #Common #Itch #Condition