Cancer
Making the Most of Oncology Appointments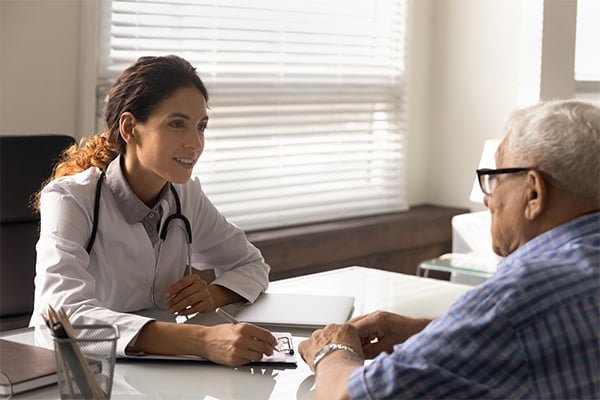 Any kind of cancer diagnosis, including mesothelioma, can cause patients to feel worried, confused or anxious. Many people may have questions about their illness, treatment options and the days ahead. Patients may help alleviate these feelings by preparing questions and concerns before appointments.
Time available with healthcare professionals is often limited. Having questions and concerns thought out before an appointment can help patients feel more prepared. By planning ahead for oncology appointments, patients can make the most out of time with their doctors.
Keep Track of Questions
Many people find it helpful to write down any questions they have leading up to their appointments. These can include questions about their type of mesothelioma, treatments, what may have caused their mesothelioma and any specific concerns.
When thinking about what to ask their oncologists, people may want to focus on the things most important to them. It may be helpful to take notes, record the doctor's answers or bring a companion who can listen in.
Questions About a Mesothelioma Diagnosis
Malignant mesothelioma is a rare form of cancer, which makes it difficult to diagnose. Patients should consider asking for more information about their diagnosis. It's also vital for any patient to tell their doctor about any exposure they have had to asbestos.
Here are some questions patients may want to consider:
Can you explain what the stage and kind of mesothelioma I have means? Patients may want clarification on the type and stage of their mesothelioma. There are four types of mesothelioma, depending on where in the body tumors develop. All types of malignant mesothelioma have four stages, determined by the cancer's progression. These factors help determine a patient's unique treatment plan and prognosis.
How is mesothelioma diagnosed? A doctor can explain the symptoms reviewed as well as the tests and diagnostic procedures conducted to determine a mesothelioma diagnosis. These may include imaging scans, exams and biopsies.
Should I get a second opinion? Anyone receiving a mesothelioma diagnosis may wonder if it's a mistake. It's important to remember mesothelioma is a rare form of cancer and is sometimes misdiagnosed. Top cancer centers and mesothelioma specialists may be able to provide a second opinion.
It is essential for patients to tell their doctors about any asbestos exposure they have experienced. Mesothelioma is caused by exposure to asbestos, and this information can be critical for an accurate diagnosis.
Questions About Mesothelioma Treatment
There are a variety of treatment options for mesothelioma. A doctor can determine which therapies may benefit someone the most based on their diagnosis and individual needs.
After a diagnosis, a patient may want to consider asking their doctor some of these questions about treatment:
What treatment options are available or recommended? Patients may want to ask their doctors about the available and recommended treatment options they have. Most treatment regimens for mesothelioma combine multiple types of treatment. These may include surgery, chemotherapy, radiation, immunotherapy and other complementary treatments. A patient's oncologist can explain options and what they think the best courses of action are.
What are the pros and cons of different forms of treatment? When their doctor starts explaining the treatment plan, patients may want to ask about the benefits and drawbacks of those treatments. Many patients will undergo multiple types of treatment to treat mesothelioma. Different types of treatment can have different benefits and side effects.
How can I manage the side effects of treatment? One concern patients often want to address is the side effects of treatment. Most types of therapy include the possibility of negative side effects. A patient's doctor can help them understand what to expect from their treatment, as well as how to manage negative side effects.
Is a clinical trial an option for me? Treatments and therapies are constantly changing and advancing. Clinical trials are a way for doctors and researchers to test and study new cancer treatments. This can open up more options for experimental treatments and therapies. A doctor can let a patient know if they're eligible for any active studies or trials.
Questions for Mesothelioma Doctors
Patients should also feel comfortable asking doctors about their experience treating the patients' type of cancer. Knowing a doctor's experience with their specific disease can help patients feel more confident in their treatments.
Questions patients may want to consider asking their providers include:
What is your experience treating this type of cancer? To increase peace of mind, patients may want to ask the doctor about their experience with mesothelioma. Many specialists have extensive experience in treating mesothelioma and participating in mesothelioma research. Patients should seek an oncologist who has experience with this disease.
How often will I see you? Scheduling appointments can be a challenge for some people, so understanding how often they need to see a doctor can be important. While patients may have a senior oncologist, some appointments can be with other doctors, nurses, specialists and care team members. It can be helpful to know how often they will see their primary mesothelioma oncologist.
Who should I contact with additional questions? Patients may want to know who to ask about finding more information on their cancer and treatment, so asking who to contact for general or specific questions can facilitate the processes for both the patients and their team.
Plan for Processing
Patients may want to plan time after their appointments to process emotions and review new information. They may want to keep notes or other records of their oncologist appointments. It can be helpful to keep a running list of questions as they come up for future appointments.
It's also important for patients to take time to understand and process the news of their diagnosis. While getting into a doctor's office is almost always a top priority, taking the time to build a support network of friends and family is also an important preparatory step in the planning process. This support network can help with learning more about mesothelioma, providing emotional comfort and taking care of day-to-day needs. Patients may also find support groups helpful as they navigate their cancer journey.
Navigating a cancer diagnosis is never easy. Being prepared and proactively choosing questions can help patients get the most from their oncology appointments.
Source link
#Making #Oncology #Appointments