News
IIT-Roorkee Researchers Discover Molecule That Could Fight Chikungunya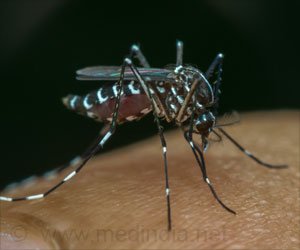 The antiviral activity achieved around 99 per cent reduction in the virus, said the study published in the journal Biochimie.
The team used structure-based studies of chikungunya virus specific nsP2 protease to identify two molecules — Pep-I and Pep-II — that exhibited protease inhibitory as well as antiviral activity.

Advertisement



Out of the two molecules, the researchers found PeP-I to be more effective as an antiviral molecule.
"The nsP2 protease is a strict viral enzyme, meaning it is absent in humans, and thus, is an excellent antiviral drug target for chikungunya virus," said lead researcher Shailly Tomar, Professor at IIT-Roorkee's Department of Biotechnology.
"Our research group has targeted nsP2 using biochemical and structure-based approach. We identified a molecule that not only possesses anti-nsP2 activity but also effectively kills the chikungunya virus in the cell based assays," Tomar said in a statement.
One of the two molecules — Pep-I — has higher antiviral activity against chikungunya virus. The PeP-I molecule inhibits the enzymatic activity of nsP2 viral protein and in cell based assay proved to be an effective antiviral molecule.
"Derivatives of PeP-I and PeP-I like molecules are being developed that will be tested for their antiviral potential in animal model," Tomar said.
According to the researchers, any molecule that inhibits nsP2 protease should possess antiviral activity.
To test the hypothesis they carried out antiviral studies using cell lines.
The Pep-II molecule showed reduced antiviral activity of only 50 per cent even at a higher concentration, the study said.
The antiviral activity was tested by adding the molecules directly into the virus culture. The two molecules also reduced the viral RNA thus confirming the antiviral activity
"Out of the two molecules, PeP-I is more effective as an antiviral molecule as no virus was detected in cultured cells at concentration as low as 10 mM (microMolar)," study co-author Rajat Mudgal from IIT-Roorkee said.
Source: IANS
Source link
#IITRoorkee #Researchers #Discover #Molecule #Fight #Chikungunya