Nutrition
How to Create a Minimalist Skincare Routine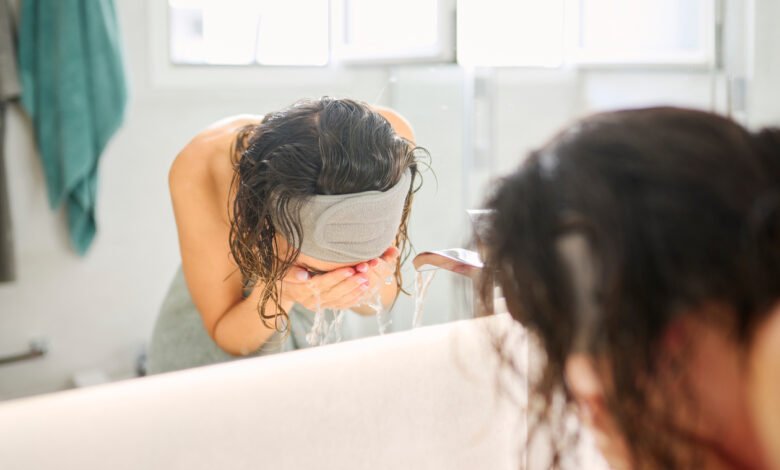 Are you overdoing it on the skincare products? If so, derms suggest opting for a minimalist skincare routine to streamline your steps—and save your skin barrier—in the morning and at night.
When I turned 35, I decided to double down on my anti-aging game plan. With so many exciting launches in the beauty world, I was eager to try them all. It didn't take long to have my bathroom counter lined with products for a separate a.m. and p.m. skincare routines.
My excitement waned when I started to develop red, inflamed skin around my mouth, which my dermatologist diagnosed as perioral dermatitis. According to the American Osteopathic College of Dermatology, the exact triggers are tough to pin down, but often include stress (check) and overuse of topical products (check). My doctor prescribed an anti-inflammatory lotion and antibiotic, both of which are helping me save face. She also suggested trimming down to a minimalist skincare routine, using a gentle cleanser and a thin coat of moisturizer—and nothing else—until my skin chills out.
This journey definitely made me wonder if less could truly be more when it comes to complexion concerns. Keep reading to see if skinimalism is the key to putting your best face forward.
Can You Use Too Many Skincare Products?
As tempting as it may be to stock up on new serums, masks, and the like, you can definitely use too many products at a time, confirms Amy Forman Taub, MD, FAAD, board-certified dermatologist and founder of Advanced Dermatology in Lincolnshire, Illinois. 
"There's a limit to how much your skin can actually absorb. Plus, some products don't play nicely with each other," she explains. She recommends using a cleanser at the very least to start with a clean slate. "Beyond that, two to three products in one location at a given time is probably the maximum that will actually have an effect."
There's also a limit to how much your skin can handle. Skin is made up of layers, each of which play a vital role in protecting what lies beneath. The outer layer is the stratum corneum. It's sometimes likened to a brick wall that protects the mortar-like lipids below, which make up the skin barrier. These lipids consist of cholesterol, fatty acids, and ceramides that—under normal circumstances—protect our bodies from pathogens, toxins, and other invaders. The skin barrier also maintains normal H2O levels within the body so we don't get too dehydrated.
There are a few things that can put your skin barrier at risk, including:
Allergens
Irritants
Pollutants
Excess sun exposure
Products that are too alkaline (vs. acidic)
Exposure to strong chemicals
Over-washing
Over-scrubbing
Steroids
Genetics
Psychological challenges
When the skin barrier is under attack, it can be more prone to inflammation, sensitivity, a rough and discolored appearance, itchiness, acne, dryness, scaliness, and/or bacterial, fungal, or viral infections. (All eerily familiar to what I had experienced.)
To restore your skin barrier, derms confirm that the easiest solution is to scale things back and embrace a minimalist skincare routine.
Benefits of a Minimalist Skincare Routine
Restoring the skin barrier is just one of many reasons why minimalist skincare regimens are having a revival. 
"With more of us sitting in front of our computer screens, phones, and tablets, we see more ads touting the necessity of skincare products," explains Fayne Frey, MD, a Rockland County, New York-based board-certified dermatologist, consumer advocate, and author of The Skincare Hoax: How You're Being Tricked into Buying Lotions, Potions & Wrinkle Cream. It can be tempting to stock up on anything that touts a quick fix, but going overboard can do more harm than good.
On the opposite end of the spectrum is a growing skincare rebellion, if you will, in the form of skinimalism. The minimalist skincare routine trend rose to popularity in early 2021 on TikTok and beauty subreddits. It involves doing a skincare audit and removing any unnecessary or overcomplicated steps and products. From there, you should have about three to five essential products in your rotation. (Think of it like a capsule wardrobe for your face.) In short, a pared-down routine can save you time, money, and your skin barrier.
Those practicing skinimalism make a conscious effort to be mindful of what they buy and use, Dr. Forman Taub says. They witness benefits in their naturally dewy, glowing skin… and their healthier bank accounts. "I think it's a good idea to only buy enough skincare that you think you will use in the next three to six months, as you want the products to be freshest," she adds.
Do You Need Different A.M. and P.M. Skincare Routines?
If you're interested in trying out skinimalism, you might be wondering if it's best to still have distinct skincare routines for morning and night. The answer: in most cases, yes.
"The day and night each offer different challenges and opportunities," says Ivy Boyd, a Des Moines, Iowa-based makeup artist. As such, it's wise to slightly tweak your a.m. and p.m. skincare routine. "The morning routine should focus on protection, and the evening should target regeneration."
Since our skin is exposed to free radicals, sunlight, and environmental pollution during the day, you'll want to keep your skin's defenses up in the a.m. Come nighttime, you can take advantage of the skin's reparative processes that occur as you sleep—and complement it with the right products. "Cell mitosis in the skin reaches its peak between 11 p.m. and 12 a.m., and your skin is doing some serious self-care and repair overnight," Boyd says.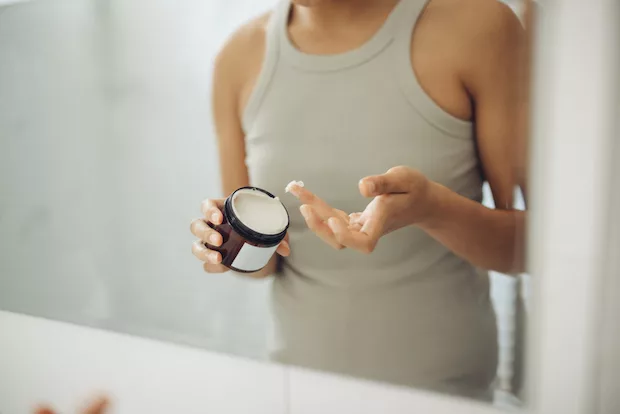 The Best Morning and Night Minimalist Skincare Routines
According to Dr. Frey and the American Academy of Dermatologists, all you really need for a minimalist skincare routine are:
A gentle cleanser. It'll help you refresh in the morning and wash off makeup/residue at night.
A well-formulated moisturizer. "Hydrated skin optimizes skin function and appearance," Frey says.
An SPF of 30 or higher. "Applying SPF to all exposed skin surfaces protects the skin from the sun's damaging UV rays," Dr. Frey explains.
To round out our complete guide to skinimalist routines for morning and night, Boyd adds a few more steps to take your routine to the next level—still without overdoing things.
Morning skincare routine
Nighttime skincare routine
Gentle cleanser
Eye cream
Moisturize
The Bottom Line
A skinimalist routine—slightly different for morning and night—can promote skin health and help you recover from skin barrier dysfunction. In addition to these topical treatments, you can complement your regimen by staying hydrated, getting enough high-quality sleep, and sticking to a nutrient-rich diet rich in fruits, veggies, whole grains and healthy fats. Last but not least, always consult your dermatologist for personalized skincare advice.
Source link
#Create #Minimalist #Skincare #Routine