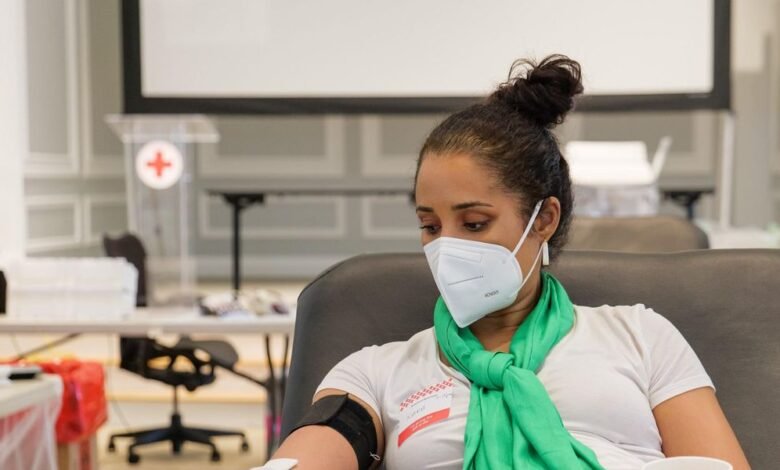 January is National Blood Donor Month.
Each day, thousands of people across the country need a precious resource: blood. They rely on people who are willing to help.
If you give blood, you help all kinds of people, including those who have been in accidents or have been burnt, are getting treatment for cancer or sickle cell disease, or have received an organ transplant or had heart surgery, among others.
"Blood cannot be manufactured and can only come from generous individuals who roll up a sleeve to donate it," said Catherine A. Mazzei, M.D., the medical director for the American Red Cross.
During the height of the COVID-19 pandemic, blood donations dropped drastically. Now, the Red Cross is working to recruit more blood donors, especially during the busy holiday season and winter, when donations tend to decrease.
"Unfortunately, only about 3% of the population gives blood, and of those who do, most only give a couple times a year. By giving blood regularly, people can help prevent blood shortages."
Read more about what happens after you donate blood>>
Thinking about becoming a blood donor? Here are the answers to common questions people ask about giving blood.
How much blood do you donate?
Around one pint.
How long does it take to donate blood?
It only takes between eight to 10 minutes to donate a pint, but the whole process takes around an hour. The process includes reading forms, filling out a health history questionnaire, and having your temperature, blood pressure and iron levels checked.
Can you donate blood if you take medication?
While most medications don't affect your eligibility to donate blood, some require a waiting period. You can find eligibility information on the Red Cross website, or check with staff members at a blood drive.
Can you give blood while on your period?
Yes, but some women have lower iron levels during their period and will need to wait until they rebound to donate.
Can you donate blood if you've had Covid-19?
Yes. You can also donate blood whether you've been vaccinated or not. However, if you're not feeling well, you should reschedule your appointment.
Can you donate blood if you smoke?
Yes, as long as you meet all other eligibility requirements.
What are platelet donations?
Platelets are one component of blood. When platelets are donated, they're separated from plasma and red blood cells, which are then returned to your body.
You can also donate plasma, which can help people with liver disease, burns and other traumas.
What are platelets used for?
Platelets are a key clotting component of blood that help cancer patients, surgical patients and bone marrow transplant recipients.
How long does it take to donate platelets?
Platelet donation can take up to two and a half hours. Plasma also takes roughly the same amount of time to donate.
How often can you donate platelets?
You can donate platelets every seven days, up to a maximum of 24 times a year.
Where can you give blood?
To find a location near you where you can give blood, visit the Red Cross website. You can also use their tool to find upcoming blood drive dates.
Resources
American Red Cross
From Your Site Articles
Related Articles Around the Web
Source link
#Fast #Facts #Donate #Blood