Cancer
The Humble Myeloma Hero: Sharing, Learning, Curing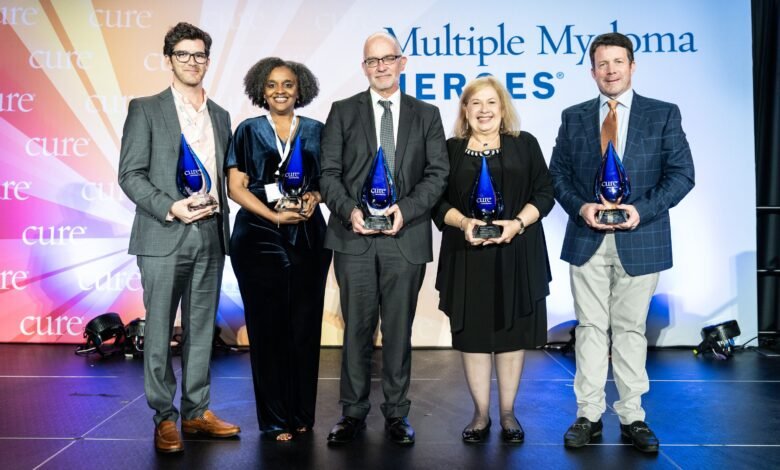 I met Dr. C. Anthony Blau — or as I know him, Tony — in December 2011, when I was in my 20s and caring for my mother,who was diagnosed with terminal cancer. On December 28, 2011, my mother blogged that Dr. Blau had fulfilled her wishes of coming home, as she was traveling 55 miles for cancer treatment. Compared withother physicians who pushed for relocation closer to the cancer center, Dr. Blau truly listened to my mother and her wishes, facilitating a transfer of care to an oncologist close to home, in the trusted care of his wife, Dr. Sibel Blau.
I still remember meeting Dr. Blau in the hospital that day. I cannot remember the exact words spoken, but his compassion and care for my motherand her family remain clear. I remember he did not rush or make us feel burdened by the time taken. My mother felt heard, cared for and valued. Because of him, my mother could enjoy a better quality of life in the last months of her life. 
As aforementioned, Dr. Blau is a physician, although that does not fully represent his accolades. Dr. Blauis an educator, researcher, entrepreneur and, as of 2015, an individual living with multiple myeloma. Dr. Blauworked as a professor of medicine in hematology for 27 years. He founded the Center for Cancer Innovation at the University of Washington(UW), co-founded the UW Institute for Stem Cell and Regenerative Medicine and chaired the Molecular and Cellular Hematology Study Section for the National Institutes of Health. Moreover, he has authored over 85 scientific publications. There is no doubt that Dr. Blauis a fantastic individual who has made exceptional contributions to the field of oncology.
I am nominating Dr. Blauas a multiple myeloma hero because of his work as an entrepreneur and founder of All4Cure. In 2018, theNew York Times published an article about a researcher who took cancer personally —thatresearcher was Dr. Blau. In creating All4Cure, Dr. Blaufounded a knowledge-sharing platform where patients, physicians and researchers can collaborate and share knowledge about multiple myeloma and its treatment. Within the All4Cure forum, individuals with multiple myeloma are empowered to take an active role in their cancer treatment, with the ability to consult with physicians and researchers on a global scale. Breaking down institutional barriers, All4Cure virtually unites patients, physicians, researchers and subject matter experts worldwide.
He dreams that this ever-growing body of knowledge will progressively improve the ability to understand and treat cancer; multiple myeloma has been at the center of this dream. Sharing, learning and curing:this defines both All4Cure, andDr. Blau. All4Cure currently has 756 patients with multiple myeloma and 270 physicians and researchers participating on the platform. Moreover, Dr. Blauis expanding All4Cure to encompass clinical trials, operational integration with oncology centers and other technology initiatives. Undoubtedly, the foundation for every business decision he makes to expand into the future is his guiding principle of honoring what is in the patient's best interest.
Dr. Blau is truly a multiple myeloma hero. He has used his knowledge, expertise, experience and cancer journey to passionately care for individuals personally and advance the treatment of multiple myeloma globally.
Dr. Blau's résumé alone will more than qualify him for this nomination. However, what is most important is who he is, his character, his compassion and his commitment to curing multiple myeloma. Dr. Blau'scredentials and awards do not convey his undeniable heart for people or his brilliant ability to make people feel heard, cared for and valued with his time, attention and curiosity. He truly takes the time to understand the person affected by multiple myeloma and fight and advocate for them, just as he did with my mother 11 years ago. Dr. Blau is a multiple myeloma hero!
For more news on cancer updates, research and education, don't forget to subscribe to CURE®'s newsletters here.
Source link
#Humble #Myeloma #Hero #Sharing #Learning #Curing