News
Calorie-Deficit Diet Is More Effective for Weight Loss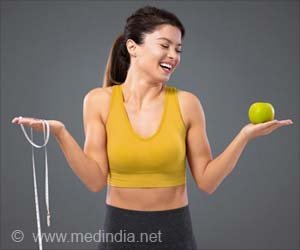 This study looked at the relationship between the time between meals and weight change. The study included nearly 550 participants (18 years or older) from three health systems in Maryland and Pennsylvania that used electronic health records. In the two years preceding the study's recruitment period, participants had at least one weight and height measurement recorded.
Overall, most participants (80%) were identified as white adults, 12% as Black adults, and around 3% as Asian adults. The majority of participants had a college education or above; the average age was 51 years; and the average BMI was 30.8, which is considered obese. The average period between weight checks in the electronic health record was 6.3 years.


Advertisement



Participants with a higher BMI at enrollment were more likely to be Black adults, older, have type 2 diabetes or high blood pressure, have a lower education level, exercise less, eat fewer fruits and vegetables, have a longer duration from last mealtime to sleep and a shorter duration from first to last meal.
The research team developed Daily24, a mobile application that allows participants to track their sleeping, eating, and waking times for each 24-hour window in real-time. Participants were urged to use the app as much as possible during the first month and again during 'power weeks' – one week each month for the six-month intervention component – via emails, text messages, and in-app notifications.
Researchers were able to measure the following factors based on the timing of sleeping and eating each day as recorded in the mobile app:
The interval between the first and last meals of the day;

The interval between waking up and eating your first meal; and

The time between eating and sleeping.
They calculated an average for each participant based on all data from
completed days.
The data revealed:
During the six-year follow-up period, meal timing was not linked with weight change. This comprises the time between the first and last meal, the time between waking up and eating the first meal, the time between eating the last meal and retiring to sleep, and the overall length of sleep. Over six years, the total daily number of large meals (estimated at more than 1,000 calories) and medium meals (estimated at 500-1,000 calories) were both related to increasing weight, while fewer
small meals (estimated at less than 500 calories) were associated with weight loss.

The average time from first to last meal was 11.5 hours; the average time from the first meal to sleep was 1.6 hours; the average time from last meal to sleep was 4 hours; and the average sleep duration was 7.5 hours.

The study found no link between meal timing and weight change in a cohort with a wide range of body weight.
Does Intermittent Fasting Help with Weight Loss
According to Bennett, while previous research has suggested that intermittent fasting may improve the body's rhythms and regulate metabolism, this study in a broad population with a wide range of body weights did not find this link. Large-scale, thorough clinical trials of intermittent fasting on long-term weight change are extremely difficult to undertake; nonetheless, even brief intervention studies may be useful in guiding future recommendations.
According to lead study author Di Zhao, Ph.D., an associate scientist in the division of cardiovascular and clinical epidemiology at Johns Hopkins Bloomberg School of Public Health, meal frequency and total calorie intake were found to be stronger risk factors for weight change than meal timing, the findings could not prove direct cause and effect.
The study has limitations, according to the researchers, because it did not analyze the complicated interplay of timing and frequency of eating. Furthermore, because the study was observational, the scientists were unable to determine cause and effect. Future research should aim to include a more diverse population, as the bulk of the study's participants were well-educated white women from the United States mid-Atlantic region, the authors said.
Researchers were also unable to establish whether research participants intended to lose weight before recruitment and could not rule out the possibility of any preexisting health issues.
Source: Medindia
Source link
#CalorieDeficit #Diet #Effective #Weight #Loss