News
An Essential One Health Surveillance Tool for Rabies Management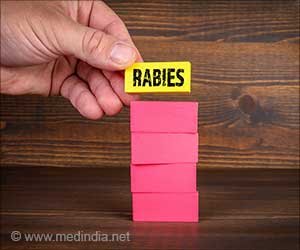 According to the World Health Organization (WHO), the true burden of rabies in India is not fully known but it is believed to cause up to 20,000 deaths every year. Dogs are the source of the vast majority of human rabies deaths, contributing up to 99 percent of all rabies transmissions to humans. Between 30 to 60 percent of reported cases and deaths in India occur in children under the age of 15.
This is because bites that occur in children often go unrecognised and unreported. However, rabies is a vaccine-preventable viral disease which occurs in more than 150 countries and territories. "Using technological tools coupled with a rapid field response and rapid diagnostics can help in the surveillance of deadly diseases such as rabies, even in densely populated urban areas," Vanak said.
Advertisement



"Such systems can be modified or adapted to other areas as well to meet the surveillance and reporting requirements of the WHO's Zeroby30 strategy to eliminate rabies globally," Vanak added. The researchers used a webline and helpline that reported injured or sick animals to an animal rescue facility to determine possible rabies cases in street animals in Pune.
Rabies Surveillance and Control in India
Suspected rabid animals were tested using lateral flow assays and this information was used to direct awareness materials on rabies as well as in conducting mass dog vaccinations in areas that reported multiple cases. Over a four-year period, the scientists received nearly 91,000 calls or reports of which 1,162 were for suspected rabies cases in dogs, and six for other animals including cats, goats and cattle. Of these, 749 dogs and four other animals tested positive for rabies.
Most of the cases were reported from the densely human populated centre Pune region. In response, around 21,000 people were provided with educational materials on post-bite management and in the region of 23,000 dogs were vaccinated.
Source: IANS
Source link
#Essential #Health #Surveillance #Tool #Rabies #Management